RUTLAND AND LEICESTERSHIRE PANTHER WATCH
MAP OF BIG CAT SIGHTINGS AND REPORTS up to December 2000
For sightings after 2000 please use the links
Click here for the 2001 sightings page
Click here for the 2002 sightings page
INDEX FOR THIS PAGE
Sightings in other parts of the country
Below is a map and reports of sightings logged by ourselves or other agencies up to end of 2000 since we began recording in 1992. Most are of a black leopard (or panther) to give it its common name. Others are of a Puma type, brown cat. And a few are of a smaller Lynx with its distinctive tufted ears.
Note for clarity, some represent a number of sightings, and only those on the edges of the two county borders are shown. A great number have been recorded last year deep into Northamptonshire.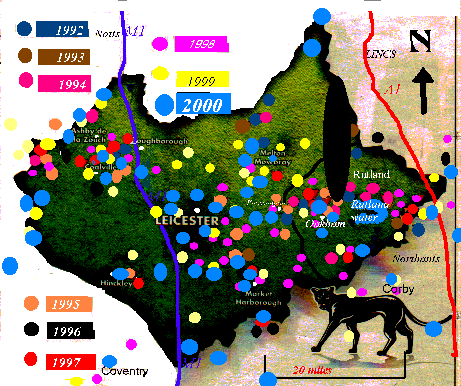 Below is a log of notable sightings for each month since this site was started (Aug 98) (we have been logging sightings though back to 1992). Precise details are left out in some instances to protect the witness and or location. This is most important now, due to some unscrupulous individuals who may be trying to "bag" a trophy. The aim is to provide an updated log, on a weekly or daily basis, depending on the level of reports, and / or their nature. I also include a log at the bottom of the page of any sightings of major interest, outside of our area for added interest, and where possible visit these areas.
Following advice received in the autumn of 2000, we are no longer putting specific details of sightings immediately on the net as it is believed to be being used by certain individuals to try and hunt down and kill a big cat
I am sorry to all the genuine surfers but it is a risk that we cannot take
INDEX FOR THIS PAGE
Sightings in other parts of the country
Return to front page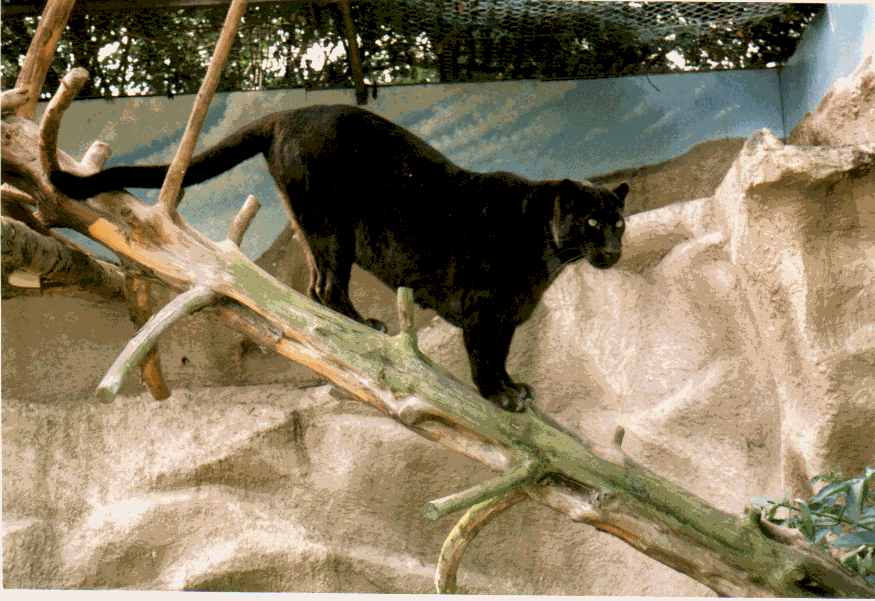 SUMMARY OF SIGHTINGS FOR AUGUST 1998
Lynx type cat observed in grounds of primary school at Oakham during daylight by couple walking dog. Cat just smaller than their Labrador dog. Cat observed for a short while before it leapt over hedge into overgrown field behind. Described as shiny brown with foot long tail and pointed/tufted ears. (Lynx shouldn't have a tail?)
Panther type cat observed crossing road near Bourne, Lincs. close to disused railway. Site is 20 miles north east of Ketton, and is in an area of sightings previously.
Neighbours in a street in South Wigston, a suburb of Leicester, have been observing a nocturnal visitor of a different kind. Not to be outdone, the South Leics panther is now taking food put out for urban foxes from gardens bordering a railway line. One couple observed the cat for over 7 minutes!
Best paw print cast to date, taken in August98 from a series of prints in soft clay at the quarry of Castle Cement, Ketton in Rutland. Prints found by a local councilor's daughter and come after sightings of panther like cat in the surrounding woods and fields, as well as in the quarry by site employees over the last 5 years. The print is of exceptional quality and is of a size in excess of the largest dog breeds, having no claw marks as a dog would, and pads matching those of a cat. The prints are also of some depth indicating a heavy creature, given their large surface area. Examination of print by experts has occurred and confirmed from a Big Cat of Puma or Panther type and has featured on BBC EAST MIDLANDS TODAY NEWS as part of their report and interview with Leics police on the Panther
To view the paw print, click here

Positive sighting of Panther at Somerby, NR Melton, Leics. Local man driving home to village at 23-00 hrs, observed a large feline black cat, about 7 feet long and larger than an alsation dog, with powerful muscular build, cross in front of his car at a walking pace and disappear into undergrowth at the side of the road. This occurred on the edge of the village only half a mile, and in a direct path to another road where it was seen last year (by the witness's wife!) .
Paw prints taken from area of extensive big cat sightings in North Lincolnshire by RSPCA.
SUMMARY OF SIGHTINGS FOR SEPTEMBER 1998
Possible sighting of a Panther type big cat between Oakham and Braunston at 18.30 hrs. Female driver noticed large black animal trotting along field next to road. Bigger than a dog with long inclined tail. Animal was moving in a cat rather than a dog like way. In an area of previous sightings, so could be a Panther.
Reports of decline in fox and rabbit numbers in woods to East of Oakham. Also numbers of deer are way down around the Bourne, Lincs. area.
Report taken today (08-09-98) of a positive ID on a Panther in Oakham town centre. The report was from an accountant ( an ex sqdrn leader), who due to his military background, was able to give a very accurate report. The sighting was close to the main railway station, near to rough land (loads of rabbits) and was at about on Friday 28th August 98. He got a very clear view of it crossing the well lit access road in front of his vehicle. He stopped within20 feet and observed it lolloping across the road, totally at ease with its surroundings. This was reinforced as it went through a gap in the fencing to cross the railway ( perhaps it had a train to catch!), acting as if it crossed at that point before. The animal was described as being as long as a Great Dane dog plus another 3 feet of tail!!! It being about 2/3 the height having its body closer to the ground. It was a dark brown to black in colour but not shiny. It had no noticeable ears (panthers ears are often flat to the head) but a cat like head with yellow glowing eyes. It had very large padded feet, and its 3 foot long tail swept down and curled like an "S". The tail was thick but not tapered as a fox's would be. The tail also had some white rings on the end of it . Its movement and actions were all cat like and the sighting lasted about 15 - 20 seconds. The observer is familiar with all manner of wildlife, and has seen wildcats in Scotland. He is convinced that he has seen a very large cat of the Panther or Puma species and it was not a fox, deer or any other native animal!
Comments: Sightings around this area of Oakham have occurred before, and the use by the Big Cats of railways (used and disused) is well known about across the country. From interviewing the gentleman concerned, he seems very credible and as mentioned took detailed observations at the time. Going on his report, then this is almost certainly a Panther (black Leopard). (Note there is also a Puma, of similar size but sandy brown in colour often seen within 1/2 mile north of here.)
Report received today (15-09-98) of a sighting on the 29-08-98 NR to Fineshade woods on the Rutland / Northants border. This was a close sighting during daylight of a panther sized cat with a grey to black coat, and spots could be observed on its underbelly. The animal was smaller than the latest Oakham sighting, being about the size of a medium Labrador. It also had a long tail that traced the ground in a curve, and the hairs could be seen standing out of it. Various other sightings in this area have previously, and recently occurred, especially in and around the Wakerley woods area. Distance from Ketton is only a few miles
SUMMARY OF SIGHTINGS FOR OCTOBER 1998
Various sightings around Bourne continue of a Black, panther type cat, also I have spoken to the R.S.P.C.A inspector for Lincs, who is following these, and other sightings up to and around Gainsborough. Not only does he believe these are genuine, big cats, but he also saw a Panther emerge from a wood south of Lincoln last year with a rabbit in its mouth! So he is very keen to get another look and possibly a photo!
Sightings have also been logged around Somerby and Burough On The Hill 6 miles West of Oakham, in areas of previous sightings. A black Panther type cat of large dog size involved.
West Leicestershire continues to log sightings of both brown Puma type cats, and the more common black Panther type. Martinshaw wood being a favourite site, near to the M1 at Leicester for the Puma type, light brown cat.A report has also been checked by the police of an apparent big cat attack on a pet rabbit. This was at Overseal on the Leics/ Derbyshire border and was in the same street that a previous confirmed (by eyewitness) attack occurred early this year. The hutch was demolished and large claw marks found on the wood. The rabbit was not found, apart from some fur!. This is a worrying trend that has been also seen in other parts of the U.K.
SUMMARY OF SIGHTINGS FOR NOVEMBER 1998
Right at the end of October, a report came in of a suspicious killing of a domestic Alpaca, near to Market Harborough, South Leics. A site visit that day produced the following:
A group of Alpacas and Lamas were being kept in a paddock next to the farm at Marston Trussell. The Alpacas are from Peru and are similar to Lamas in size. The owner discovered the disembowelled carcass of a youngster one morning, and found the rest of the herd in a very distressed state. So much so that the vet had to attend and sedate them. The dead animal had lost all of its main body and the back of its neck. Its ear was also missing but no damage noted to its back legs. The vet stated that the evidence pointed to a Big cat being involved and not a dog, even if it were brave enough to take on the herd! The mother also received cuts and scratches but died after a few days due to shock. The incident so upset the owners that they have moved the herd to another part of the county until the cat moves on. The local farmers who think its all a big joke, did not think it was so funny when they saw the results, and many are now very concerned for their livestock. The local Harborough Mail has run it as the main story today (06/11/98). The carcass was left overnight in the paddock and a pathologist from Cambridge was due to come over to look for signs of Big Cat involvement, but it vanished overnight! We do have some photos though, and I will put them up here when developed. Marston Trussell is very close to Lubenham, where a pet cat was badly mauled by a suspected Panther and where it has been regularly sighted.
More sightings have just come in from around Burrough On The Hill, East Leics and Great Easton, South Leics/Rutland. Both are in previous sighting areas and involve black cats of Labrador size, matching a young Panther. Burrough has been "Hot" now for a few weeks. Most sightings are around 06-30 in the morning. There are also lots of sightings around Ashby Folville and across to the North of Leicester, at Barkby (at least two independent sightings of a Panther here)
We have just had a report today (12th Nov) of a suspected Big Cat kill on a sheep at Ashby Folville. This is close to Burrough and is next to a disused railway. The animal had been almost consumed with just the ribcage and spine left, this all occurred overnight (Tuseday). The head was severed and was in another field! The carcass was taken to Drayton Manor zoo where their Panther experts carried out a P.M and confirmed it as a Big cat kill. The wind pipe having been crushed and puncture marks found. Also the spine had been severed. It was a very clear, Big Cat kill unlike some kills which could be dogs or even (as with a deer) due to inter animal fighting. The kill comes in an area where more sightings have come in of a black cat, of Labrador to Alsatian size being seen, often at very close range.
Following a high profile front page story by the "Leicester Mercury", and other locals, last Saturday (14th Nov) and the following week, there has been a massive amount of positive sightings reported. These are often not reported for fear of ridicule, or lack of knowledge on who to report them to. (After all, you wouldn't generally ring 999 unless you were threatened by the cat). The response has even overwhelmed us , and has highlighted the previous sightings this month and before, in that there is definitely a Puma type cat, of creamy brown colour, being seen regularly around the West of Leicester and up to the Bradgate park area of Charnwood Forest, north of Leicester. Newtown Linford has had independent witnesses of the same animal (See October)
Also, we have had loads of Panther type black cats, again around the Ashby Folvile/ Burrough areas, also nearby Tilton and a substantial number in Charnwood Forest. North West of Leicester. A very clear report came from last week, when a group of Ornithologists, carrying out a ringing exercise and survey on birds at 06-30 in the morning, heard a strange noise from behind a stone wall. They looked over to see a panther bounding up the field, before it turned and stared at them. Astounded was not the word, and they now take a camera, in the hope of observing a slightly more exotic subject! This backs up other reports which extend east to Barrow on Soar
Also some hunters were out in the Vale of Belvoir, north of Melton, hunting with lamps ("lamping") for foxes, when they came face to face with a Panther. They were so taken aback that they did not shoot it, but instead got a very clear look. Being used to the countryside and previous sceptics. They are now wary of going out at night unless in a group! But hope to get a photo or video and would not want it shot.
More reports have come in today (21st Nov) of sheep kills, in suspicious circumstances. The latest sheep kill, has the hallmarks of a Big Cat, with classic evidence of a side on ambush to the throat of the unfortunate animal against a fence. This was confirmed by the presence of large blood stains up the fence where it was killed, with blood some 2 feet off the ground! This debunks the theory of some farmers that the previous was a dead animal, eaten by foxes. The only remains of the latter being the fleece and ribs/spine and 3 legs. Again the head was severed and missing. The carcass had been dragged 20 feet from the kill through a hedge and ditch to another field. The kill and stripping of the carcass had occurred overnight. The police have viewed the site and are as convinced as ourselves that it is the work of at least one Big Cat.
To view the evidence of these kills, click here

A further kill occurred, again with only some bones remaining, and no head and only 3 legs. This was
3 kills in less than 3 weeks in the same area!
Another attack on a sheep has occurred, but the animal has survived, albeit with deep lacerations from claw marks. Fortunately, this run of kills ended as quickly as they started and has not (30-01-00) been repeated.
SUMMARY OF SIGHTINGS FOR DECEMBER 1998
Confirmed reports of suspicious sheep kill at Twyford, just south of previous kills, The N.F.U is now urging farmers to report all suspected attacks to gauge the level of the problem. Will be over in the area on early morning observations this weekend.
Sheep found near Owston Woods with its throat ripped out. The farmer who reported it suspects the Panther was to blame as a dog would have gone for the rear of the sheep.
Further sheep kill in area of 3 previous panther kills (see Nov) Farmer disturbed by his dogs at night went out with "night sight" and could see animal sitting in the edge of the adjacent woods> he woke his wife to look and they are certain it was not a fox or dog
The farmer is now bringing all his sheep in to the barns every night for safety, a major inconvenience.
Horse rider reported a previous sighting of Panther type big cat on land next to above farm during daylight at end of November.
Report in (Friday 18th Dec) of very good joint sighting of panther by two witnesses. Two workers at the Castle Cement quarry at Ketton, were working on the new west face at 10-00 in the morning, when they noticed all the sheep running around the adjacent field. Also the birds all flew up from the hedges, when they noticed the panther like cat chasing the sheep. Described as black and bigger than an Alsation dog, but with cat like features, the animal headed off towards RAF Luffenham without catching any sheep! This is the first sighting NR Ketton we have heard of since the early Autumn, but is in an area of previous prolific sightings going back some years (see paw print page) This report has featured exclusively in today's (Thursday 24th Dec) "Rutland Mercury" hence the delay on posting of full details until now
We have also had a report of sighting last week on the Eastern edge of Leicester by a rabbit hunter, who picked up the yellow eyes of the cat staring back at him in the dark. This was NR to a disused railway and is only 10 miles from the Twyford sheep kills, and again in an area of previous sightings last year.
Sighting report in of Panther at Knossington at 10:30 Tuesday 29th Dec morning. Knossington is 4 miles west of Oakham and is just in to Leicestershire. The cat was seen by a middle aged couple from London who were driving from relations in the village, and had no knowledge of the history of the Panther. They identified it immediately as a Panther, and say it was bigger than an Alsation. (black in colour) with a long cat tail, muscular body etc. What makes this sighting even more remarkable is that it was seen crossing the road into woods only 100 mtrs from the field where the Cottesmore hunt meet was taking place at 11-00. This was also the hunt meet that Prince Charles attended, so there was also a very large foot following and police presence! Even worse was that I drove down the road twice at that time, going to the local refuse tip! But I didn't have my camera, so it was a good job I didn't see it (even I can't carry the camera everywhere) This is the first time it has been back to Knossington for almost 4 years to the day, and is within feet of previous sightings and only 1/2 a mile from my fathers home and his sighting that started our search all those years ago in earnest ! This repeat location is a classic trait of the cats and has been repeated countless times before, even being seen 2 years to the day in the same field, after being away from an area.
---
SUMMARY OF SIGHTINGS FOR JAN 99
Following a local radio interview on the latest panther sightings, a report was received yesterday of a positive I.D. on a Panther at Cossington. This was near to the main A46 trunk road and is about 8 miles north of the City of Leicester. (7 miles West of the recent sheep kills, but some 20 miles West of the last report at Knossington.) A couple who breed Labrador dogs, noticed the cat in an adjacent field as they drove at 16-00 hrs on the 31st December. The wife saw it first and alerted her husband. They got a clear look and say it was black with very cat like movement and long tail, and about size of Alsation dog but very muscular. They are adamant that it was not a dog ,or any native wildlife but a Panther type big cat. This report is only a mile from areas of previous reports a few years ago, and close to the Charnwood forest sightings of November.
It would therefore seem clear, given the reports so far, that the Knossington and Cossington cats are not the same animal, and I would also say that as Ketton is about 14 miles east of Knossington, then that is not the same animal either. This is based on the fact that in the wild, their territory is only 60 square miles and that from previous experience, the cat will stay within a few miles and then move slightly on to a new area. Perhaps returning after a few months or even years to the same place or field but certainly not moving across the county in one move. Especially as there are areas devoid of sightings in between the hot spots, and some major roads, motorways and railways to cross.
Following a high profile report in "The Leicester Mercury" on the latest report of the panther being only a few hundred yards from Prince Charles. We received two reports of previous sightings.
The first was by a fisherman on his way to a lake at 04-00 in the morning in September near Stoke dry. This is about 10 miles South of Oakham and has had reports of sightings a few years ago, but there were sightings near there in September. As he drove along a lane, he saw the cat in the middle of the road drinking from a puddle! He stopped with the cat just feet from his bonnet and illuminated clearly, completely at ease with his car. He described the animal as black, about the size of a large dog, but with a long curved tail, and muscular body, the shoulders were visible sticking up above its body (this would be more noticeable at close range with the cat crouching to drink). He is adamant that he was observing a Big Cat such as a Panther. After a short while, the cat finished drinking and slinked off through the hedge.
Note, this is not the first report of car drivers being able to observe the cat at very close distance at ease, and applies equally to other wildlife such as Muncjac deer who are very timid, but I have had some very close observations at night with them.
The second report dates back to the evening of December 16th 1998 when a middle aged couple at Glenfield had their 6th view of a panther like cat! They live near a disused railway on the North West outskirts of Leicester close to the main M1 motorway and their large garden has a culvert under it. It appears that the cat is following the stream and crossing the garden to avoid the culvert. They are aware of its presence due to security lights and have now seen it on 6 occasions over the last few years. Described as labrador dog size, dark in colour with long tail, cat like head and movement and powerful body. They often get alerted to visiting badgers , foxes etc but occasionally get something more exotic.
Again, this report would indicate that the Cossington report is the animal over to the North West of Leicester and not the same animal that is around Knossington and Oakham. This is not the first report of a Panther over that area of Leicester and there is also a Puma a few miles North of this sighting
Further information on the late December sighting at Knossington above has come to light and reveals that Prince Charles actually rode by the point where the Panther crossed, within minutes prior or after the sighting on the way from his horse box to the field where the meet took place! This fact has now been picked up by the local and now national media (keep an eye on the Sunday Mirror for 10th Jan).
A very good sighting has just come in of a reported Panther at Grimston near Melton. A doctor and his girlfriend witnessed a large black cat, described as a black leopard, standing on the adjacent disused railway embankment, looking at them as they were out shooting rabbits at 23-00 in bright moonlight. He is now going to try to track the cat (Sun 10thJan) and believes it to be in one of the numerous old railway tunnels in the area. This report is in an area of high activity a few years ago with odd reports in between, and is about 7 miles northwest of the sheep kills of November.
Report in of sighting 13th Jan at Mountsorrel. The village is between Leicester and Loughborough, about 3 miles from the Cossington report. A pet cat was found at the owners door in a very distressed state, and the owner observed a large black animal, of large dog size slink away at the bottom of the garden. The cat had to have treatment for lacerations and had to be tranquillised to calm it down. The suspected animal was also making a most unusual wailing noise, which was not a fox, (which the owners regularly get visits from)
Just in,(only just able to update) on Mon 18th Jan, at about 18-00, my sister who is in her late 20s was travelling along the lane from Pedigree Petfoods research and admin headquarters at Waltham on The Wolds (where she works in marketing) when she came round a bend. Directly in front, in the middle of the lane was an animal of about 3 foot high and 6 to 7 foot long, sandy brown in colour. Travelling at 50 mph, she though she was going to hit the animal, when in a split second, it sprang from the centre of the road and cleared both the 7 foot wide verge and 6 foot high hedge in one leap! Being brought up in the countryside, she is used to foxes, Muncjac deer etc, and is sure it was none of these. Waltham is about 4 miles North East of Melton Mowbray and is in deepest leafy Leicestershire.
Although her sighting was only seconds in length, from the description and agility, its almost certain she saw a Puma (cougar/mountain lion/catamount). These look like a lioness at a glance and although there are no reports of one at Waltham before, there has been Pumas seen north of Oakham and over to Bourne, as well as North Leicester. And we know that Pumas and Panthers are seen in the same areas and Panthers have been in the area previously. This now means that 5 members of my family have seen either the Panther or Puma over the last 4 1/2 years. I can't wait for my turn!
Also, in today is a report from a driver, of a Puma sighting at Great Dalby, about 5 miles south of Melton. The sighting was at 16-00 hrs on Sun 10th Jan, and the Gentleman observed a Big Cat leap across the road in two bounds! He described it as sandy brown in colour, very cat like with a long tail and about 6 foot long and 3 foot high. He is convinced it was a Puma or similar Big Cat.
The sighting matches the report from my sister and is about 6 miles from that location. Interestingly, it is also only a mile or so from the farm where all the November sheep kills occurred, and also in an area of prolific Black Panther type Big Cat reports. This mixing of Big Cats is not uncommon and has been seen elsewhere in our, and other regions.
Just in today, report of a very good sighting on Thurs 21st Jan at Melton Mowbray. Two men observed a Panther type Big Cat next to the Tesco store on Thorpe road Melton. Situated on the North East outskirts of Melton, the sighting was at 15-00 and was in a small field , next to the store. The animal was seen for nearly 15 minutes! Described as black but with a mottled coat, about twice as long as a Labrador dog and about 3 feet high. There are 100 % sure it was a Big cat they were observing.
This report is only 2 miles from the Puma report from Monday, of an all together different animal. This fits in with the two animals being together in the same area, and we are only short of a sighting of both together to confirm this interaction. It is thought possible that Panthers and Pumas could pair up in the right conditions. Note we assume the black animal to be a Panther, due to, as in this case, observations of spots under the black coat, in the right lighting conditions. Pumas can have grey to black coats, but it is very very rare. Normal coats are sandy brown, with white under the chin and front
More sightings have come in of a black "Panther" type Big Cat at Ingarsby, near Houghton On The Hill. This village is about 6 miles east of the City Of Leicester, and is sited next to a disused railway! A husband and wife both individually saw the cat on alternate days there. It is also only 1/2 mile from where a night hunter looking for rabbits picked up what he thought was a Big cat in his nightscope at the start of the month.
SUMMARY OF SIGHTINGS FOR FEBRUARY 99
We have been contacted by a Leics Parks rangers who have seen what they believe to be a Panther on a number of occasions. For professional reasons, we are not revealing the location at their request, as they fear armed hunters and other such undesirables invading the park.
We also were contacted on 03-02-99 by an ornithologist who witnessed a trail of unusual prints, along with a game keeper at a large estate. They informed us and took a plaster cast, but when the landowner found out, he ordered complete destruction of the trail, and a ban on access to the site. We have seen the cast taken though, and have to report it as a dog. It is about the same size overall as the Ketton print, but has a different pad layout and shows possible blunt claws being present. It does make you wonder if some sightings or other evidence goes a similar way though.
We did spend an afternoon over at nearby Ketton woods, and found some promising areas to investigate with possible Lynx prints
Report from the Rutland Times, of a positive sighting at Little Casterton. On Friday evening 5th Feb, a motorist driving towards the village, near to the Tolethorpe Hall Shakespear theatre saw a large Cat in his lights. He stopped and the cat walked up to the car, passing down the side. The motorist described the animal as about the size you would expect a leopard to be, Jet black and unfazed by the proximity of his car.He lives in the next village, and is quite used to normal wildlife identification.
This report is only 2 miles from Ketton, to the North of Stamford, and is in an area of sightings right back to the early days of black,Panther type and light brown Puma type cats.
Report in of cat like prints in the snow at Somerby during Wednesday night (10th Feb). Householder found large bone hanging high up from tree (for birds) had been ripped down and taken. Prints all round the garden and looked like it jumped neighbours wall and raided their dustbins.
This report of prints, although not able to be verified by ourselves, sounds like a Big Cat, and is only yards away from where a Panther type Cat has been observed crossing the road to Burough On The Hill
Report just in from man who saw a Panther type Big Cat at Peterborough. I have spoken to the gentleman as although in Cambridgeshire, it is only about 18 miles from Ketton, and could be the same animal seen up to that area. He was driving into his yard at Fengate on the South east of the City, at 02-00 in the morning, when he observed a large Black cat like animal. It was not concerned by the lights, and sauntered along before jumping a wall into fields. He describes it as being as big or bigger than his own Alsation dog, and shiny black. He thought it looked quite slim and fit.
Another report is running in the local Peterborough paper, of a clear sighting at 08-00 on Sunday 14th Feb near Wansford.(8 miles west of Peterborough) A large Panther like cat , black in colour crossed the A47 trunk road in front of the witness, who is positive it was a very large cat.
Both these reports are within movement distance of Ketton, the latter is only a few miles away, but both are connected with each other by the river Nene (with footpath) and the preserved Nene railway. There have been numerous reports around Wansford and Caistor over the last few years, and even of a Panther stopping dumfounded traffic to cross the adjacent A1 dual Carriageway!
SUMMARY OF SIGHTINGS FOR MARCH 99
Following a quiet February and even quieter March in our area, the Panther is back! We received a report of a sighting yesterday (Frid 12th). A site visit was made by the team and the following found. A lady noticed from her kitchen, what she thought was a large dog, lolloping along the grass, by the church in the village of Great Dalby, East Leics. It was 07-00 in the morning, and light. She realised as it approached her kitchen window that it was not a dog, and then identified it as a Big Cat, a Panther she thought. She observed the animal for a short while and then lost sight of it. It was described as, much bigger than a Labrador dog, with at least a 3 foot tail, and powerful build, and black coat. It was moving in a cat like manner, and was confident in its surroundings. No prints were found at the scene on the todays visit. An unconfirmed report was received during the site visit, of a sighting at nearby Somerby last night. Details posted when known.
After some time without sightings, its nice to know that "our" Panther is alive and well. This seems to occur from time to time both here and in other areas (and occurs in the wild) No one is sure why these animals can disappear for months, and then pop up again. Still, with all the wet weather, its probably been staying low in a barn somewhere in the locality.
The latest report, is in the area of heavy sheep losses in Nov, and was where a Puma crossed the road in early Jan. It has also been in the triangle of reports for the last 6 months, being to some 6 miles south of Melton, and not far West of Oakham
We have received a report from Whitwick of a sighting on Mon 15th March. Whitwick is about 10 miles North West of Leicester close to Coalville and close to the prolific summer and previous hot spots of Thringstone. A lady saw a large Panther type cat, on the hedge behind her house at 05-15 in the morning. She could clearly see it in the security lights. It had a long curved tail, and the body looked black. It then moved away.
This report was a number received following a packed talk at nearby Overseal to a Wildlife group. More reports were received via the attended, of last summers activity in the area. Over half the audience had either seen, or knew someone who had seen a Big Cat wild in the U.K.!
We have also received a report from a reliable witness of a sighting last month at Coventry, Warwickshire. The gentleman, an MD of large Leics company, and high ranking official in Leics, was returning from Stratford on Avon along the A46 on 10th Feb at 19-05. As he stopped at the A45 roundabout south of Coventry near Baginton airport, a large Panther like cat walked across the well lit 3 lane carriageway in front of him. He was only 10 feet away as it ambled across the road, and he described it as black, slightly smaller than a Labrador dog, with a long thick tail. He also said it had a cat like head and he was drawn to its very large padded paws. It was in his vision for about 20 seconds and came from thick cover and went into cover on the other side. The gentleman is very level headed and is convinced he saw a Panther or similar Big Cat. On our reporting of this to the local Leamington Spa paper, it transpires they have a large dossier of sightings going back years in the Coventry / Warwick / Birmingham triangle. (See other areas log for Jan 99)
It also appears that there have been reports of Panther sightings near Morcott in Rutland this year that we were not aware of. We are following up this lead.
SUMMARY OF SIGHTINGS FOR APRIL 99
April has been a rather quite month, but this last week has resulted in a glut of reports, going back to March. (a bit like the old bus adage).
We received a report from a colleagues wife who works in the office of a large company on the edge of Corby, Northamptonshire. In early April, she looked out of the 2nd level office window over the old steel works quarry, and saw what she thought was a man in a dark monkey suit up a tree! A second worker looked, and thought it may be part of the tree bough, being about 25 to 30 feet up the tree, and at around 1/4 mile away. A male worker then also looked intrigued at the commotion, and all three watched in amazement as the object came down the vertical tree trunk, and disappeared into the deep cover below. They discussed what they had seen and came to the conclusion that it was a very large dark animal, to have been so clearly visible at that distance and of the same dimensions as a large man. It must also have been capable of scaling the 25 foot of vertical trunk. They can only assume it was a big cat, possibly a Panther.
The area where the animal was seen is in a vast overgrown quarry area, which is securely fenced off to the public. The tree has been identified, and is about 1/4 mile from the office, and the fork is at 25 feet above the ground. There have been past and recent reports of Panthers all over the Corby area, and the place in question has a large wild deer population.
Following coverage of this report in the local media, more sightings have come in. One was of a Panther which "jumped vertical 4 feet up on all fours" when a lady walking her Alsation dog disturbed the cat while it was "sunbathing" in the hedge of a lane South of Corby. The dog ran off with the Panther following. The lady was very shocked, and believed her dog had been lost, but it returned after about 1/2 hr unharmed! She described the cat as black, and as big if not bigger than the dog, with a long curved tail.
Although dogs have been attacked in other areas, there have also been documented cases of dogs being almost seen to play with the cats, and certainly not shown or had any aggression .shown towards them.
A remarkable report has also come in from nearby Kettering. A retired couple have had some unusual goings on in their large garden on the northern edge of the town. It started in mid March, when overnight, all the frogspawn disappeared out of their garden pond! The garden is well secured, and no native animal was known to steal frogspawn, besides it had never happened in the last 30 years before. Then, in early April, the lady was standing at the bottom of the garden when she heard a scratching noise from the 6 foot high fence in front of her. She watched as a "hand" came over the top and gripped the edge. She then realised that it was a big furry paw, covered in black hair and mud! And was "big", about 4 to 5 inches across. After a few seconds, it slid down the other side, and she heard the animal retreat. Puzzled, She told her neighbour, who then told her that he had recently seen a Panther in their garden drinking water from the water butt tap! , and that she had probably seen it coming over the fence but disturbed it.
We have also had reports of a Panther type cat crossing a footbridge on the Southern outskirts of Leicester this week, and also sightings of a Panther type cat near Seagrave, 8 miles north of Leicester, which are being followed up on night searches by our Loughborough team.
SUMMARY OF SIGHTINGS FOR MAY 99
Just when we thought April had been fairly quite, we have just received a glut of reports from the previous months. The first goes back to mid February, when a Panther like black cat was seen on the Leics /Warwickshire border near Twycross Zoo, at Sheepy Wash, about 16-00 hrs. (The Zoo have no Panthers in captivity, but do have other Big Cats)
The next and remarkable sighting was by a Police Patrol on the Rutland / Leics border. We heard a report that two officers from Leics Police, were shocked when a Panther walked across the road in front of them. We have checked this out, and it has been confirmed as genuine, although the police officers wish to remain unidentified for obvious reasons! The sighting was on the main Oakham to Melton road at Leesthorpe, on the 20th April, at 23-00. The animal was described as bigger than a fox, or dog, black with cat like features and movement, and a long tail. Leics Police wildlife inspector (who is a firm believer in the cats existence) interviewed the pair, and is certain of what they saw. We have been given permission to publish this report in the press (Leics Mercury).
Also on the same night as the police sighting, a Panther was seen on Melrose rd, at Thringstone, near Coalville, 35 miles West of the police report!
Also more reports around Arnesby area of South Leics
Police sightings of Big Cats across the country is not unusual, and one wonders how many more officers see them and don't report for fear of ridicule, I believe that the two Policemen involved here, were very reluctant to report it in and only did so due to the extensive investigations that ourselves and Leics Police have been undertaking.
It is also nice to have two simultaneous reports from opposite ends of the county, to prove the existence of more than one Cat (which we already knew)
More reports in from the Kettering area of Panther type cat activity around Rothwell.
Despite an evening tonight driving around Rutland with night-vision scopes etc. We have failed to pick up any observations, although the Peterborough group are more hardy, and are staying on station all night!!
We have had a glut of reports from throughout the two counties and beyond,
Sighting of Panther in mid April by 5 occupants in a car at Langham, North West of Oakham. The cat was described as about the size of a Labrador, black with cat like head and long curved tail. Only reported to us, due to a local radio interview today (9/7/99)
6th May. A lady police sergeant and other ornithologists, on an early morning bird watch, observed a large pale brown to light cream cat through field glasses at 06-00 near Peckleton (South West of Leicester.) She observed the cat for at least 10 minutes, and could clearly see its mouth and whiskers. It was sitting in the early morning sun, and acting like a normal cat would. She judged its size as about a labrador dog size. Thought to be a Puma, of which there was a report last year only 5 miles north of this site.
13th May. A man and his wife saw a very big black cat rolling on its back on Braunstone lane, Braunstone, West Leicester at 17-00 !!! He is used to watching badgers and Foxes, and said that this animal was definitely a Cat, and was acting like a kitten would, with its paws etc. Was much bigger than a fox, and had a 2 to 2 1/2 foot tail. The Police are certain, that this is a genuine sighting of a panther. Its interesting to note, its next to a large park, and also a goods railway, linking Leicester with Coalville which is known by the local park rangers, to be a route used by all manner of wildlife to access the City. It is also only a mile or so from the sightings at Glenfield at the end of 98.
17 th May, Man walking dog at midday near Ashby de la Zouch, North West Leics, saw a large dark cat 100 yrds in front. The animal loped across the field into a hedge out of view. Described as size of a retriever, and not a dog, but cat like, but far too big for domestic cat.
13th June. Manager of a farm saw a black cat at 05-45 in the morning. The animal leapt over a crash barrier on Welham lane, Great Bowden (North east of Market Harborough, South Leics) Described as lower than a Labrador, but longer
21st June, Midnight, a lady observed a large black cat cross the road, near the dissused quarry at Tixover, South Rutland. The animal was low to the ground, about Alsation size with rounded ears and cat like head, long thin tail. The animal sprang across the road.
Sighting, is only a mile from Ketton quarry.
Also report of a Panther like cat seen on Cold Overton hill, Oakham in late June.
SUMMARY OF SIGHTINGS FOR JULY 99
5th July. Report of Panther like cat at Kimcote, west of Market Harborough (near M1)
7th July. Panther like black cat with "square" head small ears and long tail down to the ground. Size of collie dog. Seen on Middle Brand Lane, Griffydam, North west Leics (near) Coalville)
8th July. Panther type cat as described above, seen at 10-00 in the morning, near pond at Newbold, mile or so from last report.
9th July. (Posted 17th July). Panther like cat clearly sighted in early hours from 25 yrds on edge of Leicester. Full details being withheld. I will have full info up on here for next week when all will be revealed. See 19th July update
9th July. Sighting on same day as above at 19-00 hrs of a large fawn colour cat at Donnington-Le-Heath, on the South West of Coalville (about 10 miles West from the Panther above). A lady observed the animal from close up, until it moved off. She said it was very similar to a Cheetah, compare new Puma Page photos for similarities.
Click on the Puma to visit Photos page

We have not had many Pumas reported in, but the early sightings in Rutland during 1991 were of a fawn or black cat, which confused the local press. We have had two Puma reports near Melton, North East Leics this year, and the last report in May of a Puma by a Police sergeant at Peckleton, in the far West of Leics, which is about 7 miles from this latest report. Its interesting to note that although never seen together (although it has been reported in other counties) the Puma when rarely seen, is always within a few miles of a recent Panther report, wherever its seen. We are certain that not only are the Panthers mating, but some cross breeding with Pumas is also occurring.
12th July. At 04-15 in the morning, a couple driving in Donisthorpe, on the Leics /Derbyshire border, observed a very large Panther like cat cross in front of their car and lope down the field. They said it had a very long (4 foot) tail and the animal was bigger than an Alsation
12th July At 23-40, a lady observed from her window at Appleby Magna, just 1 mile from the above report of only 18 hours earlier, a similar animal above. Initially ,she thought it was a man lying next to the road under the street lamp. She called her husband who saw it, and then they realised when it got up and walked off, it was a very, very big black cat! 4 foot tail and long powerful body of bigger than a large dog. They observed the animal for12-13 minutes.
We are certain from the descriptions and their close proximity/ timings, that these are both the same Panther. Also, that it is a male, due to its large reported size. Some reports near to these locations have been of a smaller Labrador size animal, which may be a female.
Report just released to the Media today (19th July) of the sighting on 9th July.
A senior Motorway patrol police sergeant was driving up the M1 motorway at Leicester Services, J21A at 03-45 in the morning. As he came off on the A46, he observed a large cat like animal on the verge. He stopped the patrol car 25 yrds from the animal and realised it was a Panther. Jet black and about the size o a Labrador dog, with tail longer than its body. It was playing in the grass like a kitten, trying to catch a mouse or something. He immediately radioed the control room for CCTV footage, but the camera could not get the curved slip road bank in view. The patrol was also the only motorway car without on board video. After watching the Panther for a short while, it became aware of the danger, and "shot off" up the bank into the fields. The Sergeant is very experienced and took the reports of big cats lightly. He now believes anything about these creatures!!
Due to the implications that could follow, we have held back on this report until full permission received to go public.
This animal is the same size as the Panther seen a few weeks earlier on Braunstone park, just a couple of miles down the freight railway near by. It was also playing in a kitten like way, as was the animal seen earlier, pointing to a young Panther, maybe just over a year old and learning to hunt.
This is also the 4th Leics Police officer that we know of to get a really good sighting of a Big Cat in the last 4 months!
Reports in today of 2 new sightings in the Coalville area again. The first was from Sat 17th July from a man walking on the golf course near to the Snibston discovery park on the edge of Coalvile, West Leics. He confronted a Panther like cat at 08-00 in the morning. The cat ran up to within a few metres of him and stopped. They both stood facing each other, and although not scared, the man was obviously concerned and began to talk to the Panther as one would with a dog. The cat sat down and was visibly foaming at the mouth. After a short while, it twitched the end of its tail, turned, and shot off as fast as any animal could run. He described the animal as Labrador size but longer, with a "butch" cat like head and very long curved tail. He is very concerned now, as to the safety of dogs walked on the park etc, although the cat did not threaten him.
The next report was on Mon 19th July at Breedon on The Hill, some 6 miles North West of the last. A lady looked out of her cottage in the village to see a very large cat, walking on the stone wall opposite. It was early morning, but light and she could clearly see the animal was larger than a Labrador, with very long tail and cat like movement and appearance, black in colour.
Both of these cats fit in with the sightings reported local to the area, although the 2 over at Donsisthorpe sound like a much bigger male Panther. The Snibston report is also only a mile from the Puma report at Donnington-Le -Heath on the 19th of this month, again putting weight to the theory that the Panthers and Pumas are integrating, or at least tolerant with each other.
SUMMARY OF SIGHTINGS FOR JULY AND AUGUST 99
August has been rather quite in our area, with just the odd one or two reports from around the usual areas of Coalville and Moira, in the West of Leics.
A good report has came in last week from the East suburb of Leicester in the Thurnby Lodge area. This involve a Panther like cat, jumping into the garden of a dog breeder. The son who is over 6 foot was feeding the puppies in the early hours of Sept 1st with his mother when the Cat jumped over their high fence. The son was so alarmed at its size that he ran into the house. The cat went behind an old sofa and its ears were still visible above the back ! It made a deep growling type noise and then jumped back out of the garden, clearing the fence by 2 feet!
The family had just moved from the Scarborough area and although they knew of reports up there, they were unaware of Big cat activity in Leicester! They contacted the police who then put ourselves in touch.
Ii is interesting to note, this sighting is close to the disused railway and only a few hundred yards from a sighting in the early hours some 2 years ago on Colchester road!
SUMMARY OF SIGHTINGS FOR SEPTEMBER 99
There have been quite a lot of reports from around the Melton area going back to July. All feature an animal of Labrador to Alsation size and a good amount have been at mid day in broad daylight. In all, the cat was totally at ease, in one case, walking along in front of a car on a narrow lane. In another this month, the cat walked up a disused railway bank, then turned and looked back at a lady with her dog.
We also heard from a local farmer who saw the Panther jump 25 feet out of a tree last August. He was prompted by the latest press releases to get in touch.
Also following a phone in featuring the Leics Police wildlife officer, who openly discussed the fact that these cats were at large and it was a matter of how many there were, rather than if they exist. More sightings were reported in.
An interesting report has come in from a man who was at the Melton Country park in mid September. It was lunch time and he heard a deep growling noise coming from a thicket on the old railway. He described it as exactly like the sound he heard a few weeks prior at Drayton Manor zoo. The two Panthers (as featured on this website front page) were playfully fighting and made the same sound. A very unusual and distinct rasping noise. After some time it stopped. There have also been further reports from the Melton country Park area. One was of as Panther like cat seen by a farmer last summer when it leapt 20 feet from out of a tree! At nearby Waltham.
There have been few reports of any sounds linked to the cats, and this sound, unique to the Leopard/Panther being heard in a sightings hot spot is of great interest. This rules out a black Puma which makes a cat like wowing noise although a hybrid x-breed may be able to make the rasping sound.
The "Rutland Times" also ran a report today (2/10/99) on a sighting at Normanton on the South East shore of Rutland water. A girl travelling with her father observed a cat like animal , black and Labrador sized in a field on Monday.
This is the first report from that area for some months now, but is only yards from previous sightings
SUMMARY OF SIGHTINGS FOR OCTOBER 99
There have been reported sheep kills and sightings south of Market Harborough, in the south of the county. These are being followed up.
We also received a good sighting this week of a Panther near Leicester. A lady and her friend were tending a cemetery at Anstey to the North West of Leicester at mid day on Sun 10th October. They heard the cattle in the next field making a noise and looked over the fence to see them charge to the end of the field in a group. They then saw a large black animal running down the field. Initially they though it may be a dog, but when it got nearer, they realised that it was in fact a very large black cat, of labrador to alsation size. It disappeared when it reached the hedge. The lady concerned holds a responsible position and wishes here name is not disclosed. But she does come from West Leics, and was aware of the activity around there, although she has never seen anything before.
This sighting is only a mile from the Police sighting of July on the M1 and close to other areas of previous sightings. The cattle are of interest, as sometimes the Cats can move through a field with little or no response. At other times, the cattle break out of their field in panic.
SUMMARY OF SIGHTINGS FOR NOVEMBER AND DECEMBER 99
There have been the usual run of sightings over the two months including some notable ones. A Puma type brown cat was seen at close quarters by a man walking at the side of the Church in Ragdale, South West of Melton. The animal was drinking from a cattle trough and he got a good view of it.
A large Carps head was found some distance from a fishery in South Leics, near to the sighting of a Puma earlier in the year. The owner said that there were marks on the remains indicating an animal had held the head as it ate it. They also found prints of a large animal and a mysterious Panther like cat was seen prior to the fish being taken
A lorry driver in South Corby had a Panther type cat cross in front of his lorry as he drove down the access to Euro Hub. This is a disused quarry railway, and is surrounded by woods and old workings and is a constant area of sightings. The driver said it was as big as an Alsation, with long curved tail and black coat. He got a very clear view of it and said it was not bothered. He is used to Pumas (Cougars) as he is from the States and said that this was definitely a Panther and not a Puma.
There was also more sightings at the end of 99 around the Charnwood Forest near Coalville and a burried goat was dug up by a lrge animal using one paw to scoop the soil away, cat prints were found.
An intensive operation by the RSPCA, Police and ourselves, concentrated on a farm East of Leicester. A Panther type cat had been seen living in a large barn of round bales and had been there for some days having been a resident the previous winter. The farmer had seen it at close quarters from a tractor, as had his children in the farmyard. A number of farm cats had vanished as well. The RSPCA took away samples of big cat faeces from the top of the stack, but despite watching the barn, the animal was not seen again.
This sightings is interesting, as its very close to the Leicester suburbs where sightings in gardens has occurred, also the area is crossed by a disused railway and tunnel, and runs right into Leicester.
SUMMARY OF SIGHTINGS FOR JANUARY 2000
We have not heard of many positive sightings in our area so far this year although there is circumstantial evidence of Big Cat activity in the Charnwood Forest area still going on, Chris is covering that area and following up. However, with the high profile media coverage at the end of the month, we are sure to get more reports in.
The investigation prior to Xmas, and the number of Police officers sighting cats also prompted the RSPCA and Police to jointly admit for the first time on camera and print on the eve of the BBC2 documentary, 27th Jan 2000 that there was indeed a population of Panthers and Pumas at large in the Leicestershire and Rutland countryside.
Click to see the article in Thursdays Leicester Mercury and also the transcript of the Yorkshire Post on the confessions of releases.
SUMMARY OF SIGHTINGS FOR FEBRUARY 2000
Reports received of three previous sightings
One was of a sighting by a man in late 1999 of a Panther or Puma near Staunton Harold, on the Leics/ Derbyshire border: He saw the Cat the day after boxing day the 27th, at 2.30 am.
As he stepped out of the house with his dog, the dog stopped dead, he then looked down the drive and saw a large dark cat (he thought that it was black but couldn't be certain) the cat looked directly at him then moved off across the drive, crossing the lane into an adjacent field. He said that during the period of time that the cat looked at him, his dog which is quite a large Alsation, never made a move towards the cat.
We then received a separate report from a couple who were walking on Thursday 4th Feb this year on parkland near to Staunton Harold. As they entered a wood, they heard a terrifyingly loud Cat like noise, a bit like a wild cat. This noise was so loud and unusual, that they became very concerned for their safety, and abandoned their walk, retreating rapidly to their car
Its interesting to note the two sightings proximity, there have been Panthers and Pumas seen in the area, and the first could have been either cat as the colours were not clear in the dark. The animal heard recently would have been a Puma or even Lynx and not a Panther, as the sound of a cat is only made by these and not Panthers. They make much deeper rasping or coughing type low frequency noise.
There have also been reports of large amounts of small mammal kills and unusual activity / strange behaviour of domestic dogs on walks in the area around Billesdon. Also two ladies walking their Labrador dogs in the area, on 24th Jan noticed a large black cat like animal in the field. They said it was not a dog, and that their own became agitated and acted out of character.
This area is only a few miles East of the November sightings in a barn of a Panther at Houghton, and is 7 miles east of Leicester. Also an area of previous reports form a couple of years.
The following are a selection of reports for this year from our member, Chris covering the West Leicestershire area.
A man from Coalville, saw what he first thought was a fox, then realising it wasn't as the face of the Animal was more flat like a cats, he couldn't believe his eyes as it crossed the Railway Tracks and looked at him, he was with his dog. The cat then jumped a 10' wall at the rear of a Fish & Chip shop. At: 19:30hrs. on the 9 January 2000.
He rang me that night and I was only 3 hours from the sighting spending half the night trying to follow the possible route the animal took with camera in one hand, and spotlight in the other.
Description is as follows:
Size

18ins high, 2ft long, tail 14ins. Build Cat like. Colour Tan / Ginger.

His own description

Puma / Cougar. Visibility Very clear.
Another man from Shepshed says that he was driving at approx. 07:20hrs up Charley Road near the Windmill, in Oaks in Charnwood during January of 2000. When in the distance he saw what appeared to be two lights, but as he approached he came to realise that these 'lights' were eyes of a large creature.
He compared this animal to the height of his car bonnet. The 'light' had been caused by the animals eyes being reflected off of his headlights.
The animal then darted in front of his car causing him to brake sharply.
Description is as follows:
Size

2.5ft high, 5ft long. Build Big and strong. Colour Dark / Black.

His own description

Some sort of wild cat. Visibility Average.
A lady in Loughborough. Said she sighted a "HUGE black cat" in the suburbs, illuminated by a street light. The animal crossed the road opposite, where it cleared a 3˝-ft wall. It then headed towards a dustbin in the side garden before clearing the same wall again. The animal then headed towards a neighbours house in the road, where at that time there was a wide opening of approx. 6 - 8 ft leading towards the back garden of the house, before heading in the direction of Canal Bank. This happened on several occasions and was witnessed by both the lady and her husband. On one particular occasion the couple tried to film the animal, but instead ended up recording the street light, the rest of the picture wasn't very clear and you couldn't see the animal, as it was to dark for the film.
The couple went on holiday to Australia in January of 2000 and have not seen the animal again since they returned home.
Description is as follows: -
Size

18ins high, 22ins long, 18ins tail. Build Heavy, muscles firm, strong, agile.

Colour

Black. Her own description HUGE cat or Smallish Panther. Visibility Excellent.
January 01 / 2000
A lady from Whitwick reported to have seen a large black cat in the morning the size of a (in her own words) "Shetland Pony" at the side of the road, in Thringstone near Coalville as she drove by on her way home.
It appeared to be tearing something up she thought maybe a bird,
January ?? / 2000
Another lady rang on behalf of her mother when she saw what she most positively described as a Black Panther as it jumped over the wall next-door into a churchyard in Coalville she said what stuck out the most was it's body & tail.
January 24 / 2000
Another lady from Whitwick went out into the garden at night to see to her cats she said she heard a growling noise coming from behind the trellis work. he immediately recognised this sound as the sound of a cat warning to keep her distance and stay away, as she heard this sound before with other cats. But it was far more amplified than the sound of a domestic Moggie. Also her cats were hissing and spitting, they were terrified. Then she heard the fence go crash at the back and all gradually returned to normal. The following day she returned to the scene only to find that the wooden fence with a 4x4 post though partly rotten had completely broken. The gap between the fence and the field on the back was approx. 5ft including a rather deep ditch and 3ft Mesh fence.
Also she later informed me that one of her cats was in season and smelt rather strongly.
The husband had also seen the Large Ginger coloured cat that had previously been seen in the centre of Coalville one day whilst out driving in that area.
February 05 / 2000
A sighting this time by myself Chris Mullins, of a panther type animal.
As I was driving along a rather long country road in Whitwick, at 15:25hrs travelling SW towards Oaks in Charnwood, I saw a large black feline figure the size of a Labrador and build of a Rottweiler. This appeared to be stalking some crows in a field next to the Woods.
The sighting was only for a split second, as I drove by the gateway then I lost sight of it as the trees blocked my vision! I stopped the car and reversed back (remembering to look in my rearview mirror first) of cause, but it had gone. I immediately stopped the car and ran out into the field but there was no trace, also prior to me stopping the car, all the crows took flight.
I rang the nearest of our members, as the cat seemed to be heading that way but he wasn't at home that day. There had been a sighting around this particular area before, in January of this year, but the sighte'e has requested confidentiality so I will go no further.
More reports for February 2000
The "Rutland Times" ran an article on a Lynx sighting on the edge of Oakham at a new estate. The resident of standing in the community, has observed and heard on several occasions, a Lynx type Cat using his garden as a short cut. The animal comes from a large nearby wood to some allotments and the new house is built on its preferred route. The Cat has been observed scaling the 5 foot side gate and paw prints claw marks are on the gate. Print casts have been taken, and from the photos I have seen, can say that they are of small (Big Cat" either a young Panther/ Puma or adult Lynx)
I now have confirmation that the animal was indeed a Lynx and had short tail etc and the witness knows what the various wildlife and Big Cats look like.
The last Lynx report in Rutland, was in Oakham in summer 98, although we do sometimes get smallish cats that don't match a Panther or Puma with Lynx features (long tufted pointed ears, tabby to light brown coat very short tail)
We are also looking at various reports of a large (male?) Alsation sized black cat in the area between Oakham and Leicester seen this month, also more sightings in Somerby of a smaller Labrador size cat, possibly brown but with pointed ears (Lynx?)
Two more reports have come in from the Market Harborough area, one at the end of Jan this year was of a large Panther like cat which was seen close to the town with part of a sheep in its mouth, the animal dropped the remains in the road when it saw the car. The driver got a good close look at the creature. Cat like with heavy head, long tail and about Labrador size but longer
Another report in early Feb, from 5 miles North West of this was of a Panther type cat. The driver (a special Police constable) again getting a very good view of the cat
A report was received of a Panther sighing on the freight railway that runs through Corby, Northants. A worker was crossing the railway bridge at 21-20 on Friday 11-02-00 when he observed a large black cat about Alsation size walking on the line below. It had a long 2 foot tail and was illuminated by the railway yard lights as it ambled towards the tunnel. He called the police on his mobile but Northants Police did not respond (they don't have a set procedure to log and investigate reports unlike Leics Police)
This report is just 1/ mile from the Euro hub sighting at Xmas and 1/2 mile from last years sighting by 3 workers of a Panther like cat up a tree on the old quarry.
A good report came in last night (22 Feb)of a sighting that night near the Oaks in Charnwood crossroads, to the South West of Loughborough.
A lady and her mother were driving at 17-50 hrs along the road near the M1 motorway bridge in Charnwood forest when a large black cat crossed in front. It was the size of a Labrador with long tail and definitely a Big Cat. The animal did not rush and ambled up the adjacent field as the startled witnesses looked on. What was also remarkable was that lady's son was driving close behind and also saw the same thing.
This report is only 1/4 mile from previous reports at nearby Charley and within a few miles of the Whitwick and Thringstone hot spots. All in the North West of Leicestershire.
SUMMARY OF SIGHTINGS FOR MARCH 2000
Two reports received this week of recent sightings. One is of a Panther like black cat seen near Broughton Astley in South Leics (details to be confirmed).
The other was by a friend of my wife's who saw a large cat, Labrador size and black, crossing the ring road on the west edge of Peterborough, near the ferry meadows country park. . She got a good view of the animal as it crossed into undergrowth.
Both these are in areas of previous reports the Peterborough animal having been seen on numerous occasions over the last few years.
Report received today of a good sighting of a Panther like Big Cat at Gallows Hill, north of Market Harborough. Seen clearly at mid morning on Monday 6th March by 3 witnesses, the animal was described as about the size of an Alsation dog, black with long tail and very cat like.
This sighting is only yards from a sighting there a couple of years ago on the adjacent canal towpath. It is also only half a mile or so from where a Cat was seen with part of a sheep in its mouth in January this year.
Report received of a sighting on 14th March of a large black cat, as big or bigger than Alsation, crossing the A50 by the Glenfield Roundabout to the North West of Leicester. The Man was delivering newspapers at 04-30 and got a clear view in the street lights of the Cat.
Also on the same day, a large black cat, about Labrador size crossed the churchyard at 07-00 in the morning at Great Dalby, 3 miles South of Melton.
A report was also received of a large Alsation size black cat crossing the A47 Leics Peterborough road at Billesedon on the 15th March, the driver got a clear view at 06-30 in the morning as the animal crossed the road.
It is apparent from the timings that all these sightings are of different cats, the 2 seen on the same day were different sizes and over 10 miles apart and within 2 1/2 hrs so not the same animal/. The Billesdon cat was also different to the closet sigting at Billesedon and does not fir the movement patterns. Given that we have had reports in that are last month, it is unlikely that the cat has moved away, and is not the one involved at Dalby and North Leicester. Also the Leicester sighting is only 1/2 mile from the Police patrol sighting on the M1 last July of a smaller black cat, possibly young female.
A frustrating report was received by chance this week from a lorry driver, who is certain he encountered a road kill of a Panther on the A14 link road near to the M1. He was driving in early Feb at 05-30 in the morning when he came across the body of a large animal in the 1st lane of the dual carriageway. He was going quite slow and noticed it was black with some brown and definitely a cat, about Alsation size. He was unable to stop due to no pull ins and did not know who to report it to. He felt that with the amount of freight traffic, it would have been quickly smashed up and nothing remain, as it was not on the grass verge. We have not heard any other reports on this but it is not used a popular route for Leics vehicles, so we may not get to hear.
We also learnt this week of the sad death of John Foden, former Drayton Manor Zoo manager and Panther expert. John worked closely with ourselves providing expert advice and featured on many TV documentaries on the Cats, always reassuring the Public as to the little threat these creatures present.
I am pleased to say that Robin Roberts has taken over his place at the zoo and is as keen to help and work on this research as John was. He is spurred on in this, in that he actually encountered a wild Puma whilst driving on the A42 near to East Midlands Airport in January this year in broad daylight. He said it was remarkable as a Big Cat expert to observe such an animal near to a busy road. This ties in with the strange and frightening cat sounds, a couple heard walking in woods at nearby Staunton Harold around that time which we thought was a Puma and not a Panther.
Reports also received of clear sightings of Panthers at Broughton Astley, South of Leicester and Higham on the A5 near to Nuneaton (north of Coventry) Both these were recent and on disused railway lines
Two reports were received this week. The first was from Sunday 19th March at 12-20 (lunch time). A couple driving in Breedon On The Hill, north West Leics were getting out the vehicle near the church when they saw at very close quarters, a spaniel size black cat. The animal was very "fluffy" and had a long "S" shape tail. The animal did not seem bothered and they attempted to coax it to them by calling it!. It eventually slinked off, but although it was cat like, it did not move like a domestic cat would.
The second report was from Groby Pool, on the North West edge of Leicester. On Tuesday 21st March at 15-30, another couple were walking back to their car, near the beauty spot, when they saw a black, dog size cat standing opposite on the quarry earthworks. This was about 20 metres from their position. The animal was about spaniel to labrador size and had a fluffy coat and long tail, cat like head. The animal was seen for a short while before it moved away from view.
Both these reports are from areas of previous Panther reports, the last one being only 1/2 mile from where a Panther crossed the A50 at the Glenfield roundabout last week.
We have also heard of Big Cat sightings to the south of Market Harborough in Northants, along the old Brampton valley railway country park near Arthingworth, although one report suggests a large Panther like cat, but with no tail! (may have lost part in an accident?)
Also reports of a sighting at Lount, close to the Breedon report, no details as yet
There was also a photo taken by a resident of an alleged Big Cat up tree in Oakham printed in the "Rutland Times" this week. Although it was taken in an area of Lynx and Panther sightings and the witness had seen the animal before, the picture is not clear enough even to determine if the creature is alive or a cardboard cutout, so the jury is out on that one I am afraid.
We have just received a glut of reports in today from Leicstershires and Rutland Police. A lot relate to Big Cat reports around the Coalville and Elistown areas for January and February this year. Some notable ones are:
1st March, A night security guard on a building site at Appleby Magna, near Ashby De La Zouch, North West Leics, phones 999 in a very distressed state after comming face to face with a large black Alsation size Big Cat. The guard requested police protection as he was so afraid of the animal and feared for his life. He is reassured that the animal will not harm him and it was not seen again
Note that this sighting is only a mile or so from the sighting of a Puma on the A42 by the Drayton Zoo keeper.
2nd March, 2 men out to the East of Leicester in the Keyham area, are using night sights to hunt rabbits, when they confront two large Panthers. Both as big as greyhounds and black. They were both very scared and quickly return to their vehicles, both independently phone 999. Again they are reassured by the Police that the animals are not thought to be dangerous.
It is very rare to get a report of two cats together, but to be expected as they are definitely breeding. It is interesting to note that the sighting is only a mile or so from the farm where a Panther was thought to have made a den in November.
7th March, A lady comes across a large light sandy coloured cat at 23-00 near Bottesford in the Vale of Belvoir (15 miles north of Melton) The animal crosses in front of her car, and she said it was bigger than the size of a sheep and the height of her car bonnet.
We have not had many Big Cat reports in the Vale area for some while now, and not a Puma since Feb 99.
Today, we also had a report from South Leics direct from a lady who came across a Panther like cat this week on Tuesday 28th . She was driving at 21-10 by the Bruntingthorpe airfield complex (home to the famous preserved Vulcan bomber), when a large cat crossed in front of her car and stopped in the road. She stopped her car and the animal with green piercing eyes stared her out. She said it was bigger than her own Alsation and was black with cat head. Due to the way it stared her out, she felt alarmed and turned her car round and went the other way around the airfield!
This report was very clear, and the lady was very shaken by her experience. The cat was only a mile from the report of a Panther at Shearsby by a special policeman earlier this year.
Footnote. This year has seen a huge increase on reported sightings over previous years, and the animals are now getting very close to witnesses, often making them feel very scared and in fear, often phoning 999!
If April is a busy, we will have a hectic time keeping up! And with definite signs of breeding, some cub reports should come in.
SUMMARY OF SIGHTINGS FOR APRIL 2000
We have received unsubstantiated reports that either a Panther or Puma is active in the Exton area of Rutland, just north of Rutland Water reservoir. Also the Bitteswell area of South Leics (Lutterworth). At this time (10th April), they cannot be confirmed.
The latest report is from the Keyham lane area of East Leicester. The witness clearly watched a large Panther like black cat walking down the lane next to parked cars at 21-00 on 30th March, illuminated by street lamps. The animal was as big as an Alsation but very cat like, it walked down through the cars on the residential lane and into a side road. The witness also said that his neighbours had been disturbed by very strange cat like sounds for some nights around the time.
This report ties in with the March reports of two Panthers together near to Keyham lane. We also heard from a farmer who saw a Panther clearly in December near to Keyham lane and close to the farm at Houghton where the animal(s) were thought to have made a den by the RSPCA.
Another report just in is from the 17th March of a Panther like Big Cat at the side of the A47 Leicester to Peterborough trunk road, at Glaston, in Rutland. The witness said he was driving in traffic at 23-45 and clearly saw the cat waiting for a traffic break to cross the road, on top of the Glaston railway tunnel. He slowed down but was too scared to stop and get a closer look, he said it was bigger than his Doberman dog, with a long tail, very cat like and definitely a Big Cat.
This is the first Rutland Panther report for some time and is interesting, as it is only 5 miles from Corby where it was seen (11-02-00) actually walking on the same railway that runs under the A47.
Report of a sighting at Sheepy Woods, Twycross, NorthWest Leics. Panther type cat seen about 7th April. Also seen in area 2weeks before.
There were a lot of reports at Sheepy and near Twycross Zoo last year and the previous years. I believe that the zoo has some Big Cats, but not Panthers or Pumas, but this may attract the wild Panthers as occurs elsewhere.
Panther seen at Foxton, South Leics on good Friday, 21st April. A builder from the village was driving on the Foxton Gumley road at 11-30 in the morning when a Labrador sized black cat crossed in front of his truck, and appeared to pounce on something in the hedgerow. He got a very clear look and was amazed that it was a Panther. Very long tail and cat very cat like actions. It was by the Foxton Locks car park and it disappeared into the hedge.
The witness was surprised that it was so close to the busy tourist attraction, but time and again, we have seen this occur. The cats are not at all bothered by being in a human environment and almost seem attracted to tourist places. This sighting is in a hot spot of sightings over the last 4 years around Market Harborough
A Panther was seen at Bruntingthorpe airfield again on 23 April at Midnight. The animal loped across the road near where it was seen by a witness in March. It was jet black and Labrador dog size, with very long tail. Went into the industrial estate.
I spoke to the security at the airfield and although they have not seen a cat, they have a lot of Muncjack deer on the massively wooded site (ex USAF base and home to the last airworthy Vulcan bomber). These deer are known favourite food of the Panthers and Pumas. The cats are also known to scavenge form bins in gardens and industrial estates etc.
A very interesting report has just come in about Panther sighting in Leicester. They are near the old railway on Spencefield lane, East Leicester, only a couple of miles from the city centre. The house is in an exclusive area and has very large gardens and trees, and the owner of good standing, has seen the animal 4 times now over the last few months. He was alarmed at first but now is hoping to film it as it competes with the urban foxes for food.
This report is only 1/2 mile from the Keyham Lane reports early this month, and also only 1/4 mile form the sighting some years ago on Colchester road allotments. The old railway runs into Leicester form Houghton on The Hill where the farm was staked out by the RSPCA and Police to try to catch a Panther in November last year
Report received from the 19th April . A lady was walking her Lurcher dog on Watermead country park, on the Northern edge of Leicester at 07-30 in the morning. She came face to face with a very large Panther. The dog was petrified and froze still but the Panther was not bothered and walked on. She said it was bigger than a large dog, beautiful with velvet black fur and long tail.
This report is only a mile or so from previous sightings and is on the canal system that runs through Leicester that links to Abbey park in the centre (sightings there previously) It is only a few miles from the Spencefield and Keyham lane reports. Again, we have a sighting in an area where lots of members of the public walk their dogs, and again despite being close, the cat did not show any aggression to the owner or dog. We have spoken to the park ranger, and he was not surprised as he saw a Panther himself near his home in the "hotspot" area of Burrough on the Hill. He was very critical of the government policy of denial that these creatures exist.
SUMMARY OF SIGHTINGS FOR MAY 2000
The sightings log is a bit bare at present due to telephone problems on our reporting line which will be resolved by mid May hopefully!!! (BT willing)
We are still able to get emails and I am informed of a reliable daytime sighting over Easter of a pair of Panthers at Heather, North West Leics. A gentleman saw the animals twice over two days on land near the brick-works and a disused railway. They were black, very cat like and much bigger than his Alsation cross dogs. He is certain that they were Panthers.
The area of this latest report is close to Measham and Twycross, both areas of intense activity of Panthers and Pumas over the last 5 years
SUMMARY OF SIGHTINGS FOR JUNE 2000
With the reporting line back on, June should hopefully be better than May.
At the end of May, we received a report relating to a Panther sighting on the East of Rutland. The lady who lives on the North of Stamford on the Lincs / Rutland border had a clear sighting of a large black cat, of very large dog size on Tuesday 30th May. The lady was driving near the main East Coast railway at Baholm when she noticed the animal in her mirrors cross the road behind her. She stopped and watched it go into a high crop of OSR where it was lost. She phoned her husband to look out of the house window but it had gone from view. She is certain it was a very large cat, resembling a Panther. The sighting was at 18-30 in good visibility.
Also, we had a report from a nurse of a Panther sighting on the A47 near the Billesdon turn in May at 03-00 in the morning. This was close to previous sightings this year there.
An as yet unconfirmed report also came in of a Panther sighting in Charnwood forest at Swithland on 7th June
On the 15th June, a good sighting was made of a large Panther near Long Clawson in the Vale of Belvoir, North Leics. A local villager saw the creature at a very close distance (5 feet)in his car and being country born and bred, was amazed to encounter the animal that everyone was talking about. He said it was definitely a very large black cat, bigger than a large dog. Not a badger or fox or deer!!
The following block of reports came in at the end of the month from the Police and other sources
Middle of May, the parking warden from Oakham saw big black cat cross A47 At the Tilton turn while he was driving to work
Numerous reports at this point over the years, one in the spring this year.
Sun 11th June family on way to Saddington (7 miles south of Leicester) car boot sale saw a Panther. It went into woods but came out again , bigger than labrador,
About 12th June at 3pm, a Panther like cat seen nr Dalby woods (Ab Kettleby-Ragdale) It stood in gateway dark color patchy (more like Drayton Manor zoo panthers)
Gt Glen, (southern edge of Leicester) Police called after two sightings in garden of house. The owners son also saw a Panther like cat earlier in year at night at nearby Glen Gorse on the A6. The animal walked in shadow side of rd, crossing over where the street lamps changed sides!!
June 15th 6 pm Man driving from Six Hills (old salt rd to Holwell ) North West of Melton. Cat crossed road from Saxilby towards Greenhill, Netherbroughton. Car travelling 50 mph 300 yds at first sighting then 5yds at nearest. Jet black 4 ft long body plus 2ft long horizontal tail loped like big cat was definitely a Panther (6.1.95 police log sightings at nearby Wartnerby and Old Dalby).
Fri 23rd June Harlaxton Vale of Belvoir Jet black Panther size of Labrador seen loping along
Sat 24 June 8:30 am Lady travelling in car on M69 motorway (South West of Leicester) near junction 1 before Hinckley turn –off. She, husband and daughter saw jet black shining coat cat running through 2 ft high cornfield big cat was 1ft higher than the corn. It was 4ft long had 2ft long cuvy tail.tail very muscular shoulders and square-shaped face. Definitely a black leopard, oblivious to the nearby traffic They were approximately 40ft from cat
Sat 24 June 1200 noon. A man on the Nene valley steam railway Peterboro to Wansford train saw big cat travelling fast in opposite direction 3ft 6" long smokey grey clearing 4 ˝ ft in clover field bottom of station rd Caster near Wansford (East of Peterborough)reported to police,
Sat 24th June between 1.30 pm and 5 pm. A market gardener at Kibworth found on his 2 acre stock proofed mkt garden a still warm leg and tail of fox left on compost heap. He felt he probably disturbed a Panther when attempting to bury it. All wild rabbits have disappeared in the area. and he has found bits of rabbits also crows wing over 4 month periods for past 9 yrs. Land next to main railway.
There have been lots of reports both recent and past around the whole area between Leicester and Market Harborough. Panthers are known to take foxes (no other predators of the fox exist in the UK!) and are also known to hide food for later. And certainly make use of the railways as a source of food and easy access along the embankments which are heavily covered with scrub
Wed 28 June. Tues night, a lady from a big house in Keyham (3 miles East of Leicester) saw her macho domestic cat totally spooked. The cat would only stay out for 5mins in the day after previously staying out all night. Neighbours cat also trembled . The next day at 5:00 am , she saw an enormous cat in her garden. At least 3x normal cat size, about size of munkjac deer. 18-20 inches high dark browny black with thick fur went down rd to Snows Lane.
This report is bang in the middle of intense activity over the last year and was close to recent double sightings of Panthers (indicating breeding) The sighting fits the description of a year old cub as this years would still be quite small. The thick fur being noteworthy as is the browner coat. All signs of a young Panther.
Wed 28 th June 6 pm A man at South Riding, Sibson Rd near Sheepy Parva saw a big black cat in field next to garden 40 yds away about 2 ft high with very long tail
Lots of reports in this area and nearby Twycross over the years. The nearby Twycross zoo don't have any Pumas or Panthers but they do have other big cats
Fri 30th June 8.15 am A man driving on country lane at Wittering (north of Peterborough near A1) saw jet black cat about 10 yards away Body at least 4ft 2ft long tail curved up at end went into field of rape,
Note this is only 2 miles from the report on the Nene valley railwayon the 24th June
Fri 30th June 2,30am Betmill Court centre Melton nr Safeway store. A Husband and wife saw Panther like big cat lay down in alleyway then suddenly race off at speed .
Although in the centre of Melton, there is plenty of access in for cats along the river and disused railway and there have been reports for years all around the edge of the town
SUMMARY OF SIGHTINGS FOR JULY 2000
Mon 3rd July 4.35am Sarson Close Asfordby (4 miles West of Melton). Large Panther like car seen 200 yds away going away on land reclamation area
Wednesday 5th July. Unbelievably, a Panther like cat was seen less than 200 yards from my own home!!
A couple were walking there dog at 21-30 (not quite dark) on the small lane that leads into the hills South of Oakham when the cat like animal walked out in front of them. It walked ahead and then went back into the field of rape and disappeared. They said it was black, cat like but as big as a fox and had long curved tail.
Needless to say, I have spent the last few evenings all around the area on watch with the night sight camera to no avail! It really is just luck if you are in the right place at the right time as these creatures constantly move about the area. But one day, someone will get a really good picture or video of one as the ultimate proof. There are so many people keeping an eye out now and carrying cameras
Its interesting to note that there have not been any recent reports of animals within 8 miles to this area so which direction it moved in from is not known. It is also only yards from where a young Puma / Lynx like animal was seen last summer on the school playground.
Another block of reports has come in some from last month Wed 28th June 5.15 am Coventry Black animal edge rd Coundon heading for Tamworth rd On opposite side rd crossed rd to grass Good visibility was coming from direction of dog kennels kept looking round Size of domestic cat but extremely long tail curled up at end and thick fur of animal possibly a cub.
Wed 28th June approx green track Great Glen to Newton Harcourt (Kibworth area) own dog froze –thought was great Dane 3ft high
Thurs 28 th June 9 pm Churchill rd Thurmaston.(North Leicster) Husband and wife saw big animal with red eyes looking in on them, Jet black Shone torch on it stopped and looked round at them They feed urban foxes and have 2 fish ponds and are near the main railway. Twycross Zoo confirmed leopards eyes reflect red/orange at night
1st Jul 1pm about 1 mile south of Kibworth Harcourt, black labrador size cat with long tail seen
Fri 7th Jul 4pm Breedon Churchyard. Motorist with old pensioner drove into churchyard 40-50 yds ahead –dry stone wall overlooking golf course On wall thought was a plastic sack big cat jumped down thick tail 18 inches wagging . when opened car door cat loped off Black shinny big as Alsation but shorter legs –huge not domestic cat
Sat 8th Bardon chapel 18-00. A man observed a large black cat like creature, thought to be a Panther in the grounds of the Chapel, 1 mile Leicester side of Coalville and next to the massive Bardon hills stone quarry and railway sidings
Mon 10th July 11am Milk man in Kibworth area delivering to cottages Saddington rd Smeeton Westerby Saw it going through a field of sheep. The animal stood out from sheep walked through gap in the flock Sheep appeared to be undisturbed by the animal. He turned the van round saw big black cat walking through stile in hedge. As big as an Alsation
10th July Markfield 16-15 A couple filling their car up at the new petrol station saw a large black Panther like creature in the adjacent field
This is only a mile from the Bardon Chapel report on Saturday, and is only a couple of miles north of the earlier reports at the County hall.
10th July Saffron lane 23-20 A man reported a Panther, larger than an Alsation in the rear garden of a house on the Saffron lane Estate, in South Leicester. The animal was in the rear garden and was clearly seen in the security lights, sitting on the lawn as he opened the door. The animal shot off and cleared a 7-foot fence backing onto playing fields and the main Leicester / London railway. Apparently, the neighbours have also seen the Panther and noticed that the normal urban foxes have disappeared. Members of the mans family have also seen the creature
It is interesting to note that the railway once again seems to be the main route for travelling into the suburbs. At this point, there is plenty of cover along the banks and vast areas of easy flat ground where the old tracks used to be.
The BBC contacted us yesterday on 17th July regarding the suspicious killing of 5 sheep at Willoughby Waterlees, South Leicestershire. Dad went out with them and investigated. However although the sheep had all been killed in different fields, the pattern of attacks did not fit that of a big cat which would only kill for food and not leave meat on the carcasses. Both the police and vet thought that it was a pack of large dogs as ourselves although the farmer was certain it was the work of a big cat
The BBC ran the report and interview but stressed that we felt it was not a big cat (although they were in the area). It should be noted that we have had very few attacks that are definite cats in this area and that an animal went through a field of sheep without them being concerned at Kibworth (about 7 miles away) on 10th July
!8th July 08-20 Another sighting in the south of Leicester estates, this time in daytime 2 miles South of the Saffron lane. A lady with her children was shocked to see a large black cat, of Alsation size, come out of bushes on the Gilmorton estate and jog onto the nearby old Great Central railway cycle way and fields. The animal was 2 foot high with 2 foot tail and appeared to be wet (canal nearby). The lady was alarmed that such animals were freely moving in and out of the city without any authorities issuing warnings. We reassured her that there was little that can be done, although it would help if USA style mountain Lion advice was issued by the council in areas of activity just to be safe. She also spoke to the local radio and press about her concerns
The old railway cycleway and canal forms a green corridor right through to the center of Leicester and is a known route for the animals to follow from the South Leics countryside into Leicester City center.
Report in from 15th July at 08:45 Local Husband wife and son observe a big jet black athletic cat jump from Sawgate lane over hedge row. The animals had a long curled tail which ran close to the ground. This is the lane between Burton Lazars and Stapleford, South East of Melton and is very close to previous sightings last year
.20th July 05:40 Transport Manager at the Long Clawson dairy in the Vale of Belvoir, saw a large black cat as big as an Alsation. The animals had a long tail close to the ground and curled up at the end. It glided across in front of him as he drove in to work approaching Long Clawson
This is a very clear sighting from a level headed responsible countryman, not in the habit of making things up. It is also in the area of very recent sightings of a similar creature.
Also a second sighting came in for the 20th July at 21:45 on Brooke hill Oakham (20 miles from Clawson) Animal was as big as a Labrador, black very definate big cat.
This was the same couple that saw a smaller animal on the 5th July but this was a lot bigger.
20th July 21:00 Today was a busy sightings day with another report, this time from the East of Leicester. A man walking his dog heard a large crashing noise in undergrowth on the Hungarton road, Keyham then heard a galloping sound as a mottled tawny brown creature with black markings came into view. It bounded into the next wheat field. About twice height of Labrador dog, very stocky powerful. Not a Puma as the man knows what they look like and its ears did not match. Thought it was an unusually marked Panther.
Loads of Panther sightings in this area but none of this brown creature.
24th July 20:30 Big panther like cat seen from house 40 yrds away at Arnesby. South Leics. The animal was stretching itself and had a long thick tail
Arnesby is only a mile from Bruntingthorpe, (April) and also close to the reports in June and July around Foxton and Saddington / Smeeton Westerby.
Also on 24th July. Senior Environmental Officer nearly runs into a big Panther like cat on the Queniborough to Barsby road. (5 miles north of Leicester) It was getting dusk but he could see it was the size of an Alsation and definite big cat.
Another reliable witness, not in the habit of telling Porkies and also fairly used to identifying native species. Also another double report miles apart at the same time.
25th July 07-00 Report of Panther sighting in the Vale of Belvoir at Stathern from bedroom window No further info.
26th July Tarbat road Thurnby Lodge estate East Leicester. 00-30 hrs man sees a large black cat in garden. About 2 feet tall and 5 feet long. He gets the odd urban fox in garden as well
Very close to previous sightings on the East of Leicester and surrounding countryside at Keyham and Scraptoft in March and April this year and also 20th this month.
26th July 21:08 Female taxi driver on the main Leicester to Melton road at Brooksby (half way to Melton) sees large cat dark grey in colour cross road in front . Seemed to act like a youngster.
28th July 15:00 Large black cat seen at Eton in Vale of Belvoir. Creature 150 yrds in front on lane , walked into hedge. Long curved tail as thick as wrist, end curved up.
Only mile from 25th July report at Stathern and also close to Long Clawson reports.
SUMMARY OF SIGHTINGS FOR AUTUMN 2000 (13-10-00)
Detailed log now indefinitely suspended as explained at the head of this page
and on the front of the site
A very intense summer and Autumn of big cat reports received and investigated, These include numerous persons out "lamping" foxes, farmers, gamekeepers and even the Leics police wildlife officer in Rutland who has been following up reports for years but had never seen one. All these and more to date, put the sightings this year alone for just Leics and Rutland at over 130!!! This is way over anything from previous years as well as being the best reported area in the UK and proves a couple of points:
1. The animals are now breeding successfully in this area and are now being seen in such numbers that sightings are an every day occurrence. (we don't think this area is unique though, just better reported)
2. They are, as predicted by wildlife experts now being regularly seen at night in towns and cities along the "green corridors" as their numbers force the next generations of big cats into new territories (following the urban foxes and muncjak deer)
3. The local media coverage has been so positive towards the subject, that now, people no longer fear ridicule for reporting sightings. This means that previous groups of people that would keep quite are happy to even talk on radio about their sightings. This includes serving police officers, fox hunt staff, gamekeepers and farmers etc as well as the numerous general public and "poachers" / fox "lampers" who contact us with their sightings.
4. Through working in partnership with the local media and Leics Police over the last 6 years, we now have the best recording system for big cat sightings, anywhere in the UK. This does have a negative impact though as we now seem to be number 1 target area for the various "trophy" hunters scouring the country to attempting to shoot a cat.
I am not sure what this would achieve given the very strong animal rights movement in this county. The authorities are also not surprisingly, very hostile to these sort of individuals who could also lay themselves open to criminal proceedings if they were caught, especially given the current crack down on firearms and even shotguns in this country. An injured Panther or Puma is a nightmare scenario for the authorities and has been witnessed before in other countries, with tragic outcomes in terms of attacks on humans.
We are currently following up loads of leads on deer kills, footprints and possible lay up places for the cats. The whole of the two counties are "hot" and sightings continue into and around Leicester and the County towns and villages. I have now given up on the map as we would end up with just one big blob across the whole map!! I can confirm that many sightings are around the same time and day sometimes 20 miles apart or involve a brown and black animal, increasing the proof of multiple animals at large.
The videos (one has never been seen on TV) taken in September in the Measham and Moira area are tantalising in that we are sure they are both genuine, but show young Panthers of spaniel dog size and really only a video of a full grown adult in front of a car or 5 bar gate will silence the critics!!. The unseen video is good as we managed to reference the locn and show the size to be much larger above a domestic cat. it was also taken with a digital video, albeit at 1/4 mile distance and there is a tractor tyre behind the animal for reference.
The only worry is that wildlife experts predict that as in America, the prevalence of cats now in the towns will now cause conflict with humans and could lead eventually to attacks and even god forbid, fatalities.
Until that time, the mystery still goes on!!! But I guess someone will soon get that holy grail video somewhere in the UK in the next 2 years. Hopefully, it will be ourselves in Leics or Rutland but the odds are not good. As a wildlife expert said to us, its like looking for an ant on a football field that can move around at 20 miles an hour!
SUMMARY OF SIGHTINGS FOR END NOV 2000 (29-11-00)
Detailed log now indefinitely suspended as explained at the head of this page
and on the front of the site
This year has proved to be the best ever for reports in this area of Leics and Rutland with over 160 logged for 2000 already. Many have such clarity and background to the witnesses that even we get staggered by them. There is a definite pattern of urban colonisation into the edges of Leicester from all sides, which was predicted some years ago by experts on big cat behaviour. This is due to the next generations of successful breeding, spreading into new territories and mimics the Panthers behaviour in Asia (New Dehli), and the Pumas lifestyle in North America (Denver has recently had a massive influx of Pumas)
There are still lots of rural reports with the countryside East of Leicester and also North to Melton getting daily sightings. Also the Vale of Belvoir is very active with one report of a Panther type creature growling at an electricity worker who hastily exited the isolated barn it was in without reading the meter!!
Following the December edition Airgun World article, I have received reports of activity in other parts of the country and note that similar numbers of persons lamping at night are confronting these creatures. Fortunately, every one so far has been sensible and left well alone!!
We this week also received a very clear report from the early 80,s at Knossington by a fisherman. He saw a very large black cat (Panther like large dog size ) walking through a flock of sheep at Knossington, East Leics. This is over 10 years before my father and many others saw a much younger Panther in the locality in the mid 90's. One can only speculate how many more were seen and not reported before it became less of a stigma to report sightings to the authorities etc.
---
CURRENT REPORTS FROM OTHER AREAS OF INTEREST.
(AUG TO OCT 2000)
Lots of big cat reports and interest from all over the country. Major scare on during the summer in both the South West borders of Scotland and even up in the highlands around Loch Ness. Check out Mark Frazers "Haunted Scotland" site for more info
Also following the "attack" on a young boy (thankfully just minor scratches and shock)in East Wales after he mistakenly pulled its tail, there is an ongoing investigation by the media in that area. They have reputedly got trackers involved to try to obtain video footage.
(JULY 2000)
Mark Frazer tells me that there is a lot of activity in Scotland , with a big media interest around the forests North West of Inverness, check ot his site when your finished from the link off our home page
Report of Puma like brown cat received from Peterborough. Lady saw the large cat at 5-30 in the morning on 7th July on the East of Peterborough near Eye
(MAY 2000)
I have received some interesting emails regarding other areas of activity,
The first is regarding Lynx sightings in the Crawley area of South London.
There was also a report of a sighting on 18-09-98, near the A47 Peterborough to Norwich road at Guyhirn (Peterborough side of Wisbeach). A car full of men returning from a race saw the animal in an adjacent field at 11-00 in the morning. They slowed to look and are certain it was an Alsation size cat like a Panther, black.
Also just in is a sighting this week of a Panther like Big Cat at Wrexham, North Wales. The animal came into the edge of a council estate that backs onto fields.
(APRIL 2000)
No notable cat reports that I am aware of at the moment but I have heard from Essex Panther Watch, that they are involved with a search for a large bird of prey down there, thought to be an escaped Eagle Owl which has been spotted in their area recently.
(MARCH 2000)
Thanks to the email from a surfer regarding the activity in the area north of Northampton. Apparently, there has been a large amount of sightings of large Panther like cats in the Pitsford, and Lamport areas, with a dog being attacked. This area is intersected by the disused Brampton valley railway which runs North to Market Harborough. Sightings all along the line up to Mkt Harborough have been logged. The area is also bounded to the West by the Althorpe estate of the late Lady Diana Spencer and area of Panther reports for some years.
I have been notified that there is a lot of activity in the Stroud area of South Gloucestershire at present, with some good sightings of an Alsation sized black cat, described as a Panther. One lady this week watched it chase a deer at a distance through field glasses. The local press are even offering a reward for pictures of it.
Also today (3rd March) The "Sun" national daily ran a small article on a security guard who observed a large Panther like cat on the new Channel Tunnel rail link construction site in Gravesend, North Kent (along the south shore of the Thames). It states that there have been lots of previous sightings in that area.
John Hancock of the Essex Panther group, tells me that there are still a lot of reports of Panther like Big Cats in the Stanstead and Bishops Stortford area of North West Essex. The Essex Police at one point received three independent 999 calls from worried drivers on the M11 who observed one of the creatures on the motorway embankment!
(FEBRUARY 2000)
I have received reports of a Panther type Alsation size cat being seen on the north east edge of Coventry.
Also more reports from the Cannock Chase area North of Birmingham including some good print casts taken, said to be 3 1/2 inches across. The holder of these is setting up a similar operation to ourselves and hopes to have a website soon (which we will link to)
Reports received of Big Cat activity in the Frome area of Somerset/Wiltshire with sightings and also lots of domestic cat kills and disappearances.
Also unconfirmed report via email of a Panther sighting in Worcester area.
I have been told that there is a lot of Big Cat activity around Goole, in East Yorkshire. The Cat(s) are seen on both sides of the river near the railway crossing, so it is assumed they use this to cross the river. This area is close to Market Weighton where other reports have been received.
There is also a lot of activity in Gloucestershire and Worcestershire where the "Beast of Inkberrow" reports go back years and even include some good video footage of a Panther like cat. Reports are often received from near the M5 Motorway near Strensham services. A dog was recently attacked, and the vet said it was caused by a large cat of Panther or Puma size.
(JANUARY 2000)
Following the Documentary that went out across the Midlands on the 27th of Jan, there has been a massive media interest. This has finally lead to some Big Cat breeders coming forward and admitting on camera to BBC Midlands news that they and others did indeed release both Panthers and Pumas into the wilds of Derbyshire and Nottinghamshire in the Mid 1970's as a result of strict new laws being brought in on ownership. There have always been rumours, but this is the first time that it has been admitted on camera. They are exempt from prosecution due to the law banning release not being in operation until the mid 1980's This has now been picked up by the press, to view the transcript of and interview from the Yorkshire Post, click here
I have been interviewed (27th) by BBC 3 Counties Radio about an alleged Panther attack in Milton Keynes on a 12 year old boy. He was with his friend on Saturday ,last when the animal sprang from a hole and knocked him over "growled" and went back down its hole. The boys said it was a cat, black and size of a large dog. The youngsters were not hurt but shaken. This was in an area where there have been loads of panther sightings over the last few years, and is causing a stir. If this is genuine, then the cat must have been playing, as it did not strike its claws.
(SEPTEMBER99)
We have also been told about a sighting at Kiveton, Derbyshire close to the Notts border. On the 19th August at around 10-00 at night, two "ecowarriors" protesting at a chemical works were shocked when a tree started to shake violently. Then a large Panther like black cat, as big as an Alsation jumped out of the tree and landed walking off in to the night. The two ladies were quite shocked at what they witnessed. There have been reports all over that area for the last few years.
There have been lots of hotspots around the country One is the Newark cat which is getting lots of media and Police attention at the moment. A 24hr hotline is running for this one.
There has also been a supposedly clear video taken of a Puma at a Telford brick works by the CCTV on site. The BBC have bought the footage and the RSPCA have confirmed the animal as a Puma (Cougar/Mountain Lion)
This was featured in the Jan 27th 2000 documentary by BBC2 Midlands Report. Why not view my page about the Documentary.
We are also aware of heavy livestock losses in the Mid Wales area of Panther reports, which is under investigation by various agencies.
(AUGUST99)
Just received an interesting email from Crispian Brigham in Market Weighton, East Yorks.
Market Weighton is a small town North of the Humber between York and Hull. He recounts how on the 24th July at 03-00 he was woken by a crying sound like a child's. Looking out of the lounge window, he could see clearly in the street light a white domestic cat, and a black cat of about 3 to 4 times bigger than the other. There was also white fur littering the road. The white cat was sat bolt upright looking at the black cat as if welded to the spot. Both these were within 3 metres of the house. The black cat was glaring at the smaller white cat and this stand off carried on for 15 minutes. His wife awoke and also saw the scene. The black cat had a pear drop type skull, but no visible ears etc. It also had a massive tail that looped the ground and returned . The black cat moved off down a side road and then once the white cat was clear of danger, it shot off as fast as it could go! After this, he went out to the street and found the white fur was real and backed up the "unbelievable encounter just witnessed"
I do not have any more info on Panther reports in that particular area, but certainly the description and circumstances fit in with a Panther. Countless reports of attacks on domestic cats have been logged across the country!
I have also had a nice email from Lisa in Missouri, USA regarding reports of Panthers over there. These are not native to either North or South America, although Pumas inhabit both continents (Western states of USA only) These Panthers are causing a stir (as mentioned elsewhere on this site) not just in Missouri but in other Central and Eastern States. She also mentions that Jaguars (native to the South Americas Jungles) have now moved up into Texas!
We are also in the process of following reports of a young Panther coming into a garden for "fox food" in a ladies large country garden near Kidderminster, West Midlands.
(JULY99)
Report (22nd July) of close sighting of a Panther in New Zealand in an area of Panther activity near Queenstown. A British couple saw the animal, described as black, larger than an Alsation with a very long tail. They managed to take some photos, and were so alarmed that they contacted the local police with the photos. If we can get a copy of these, I will post them on here. Apparently, New Zealand has an introduced Big Cat problem with the same problems as we have in convincing the Public of the Cats existence.
Report from following the "Late Show" feature tonight of a Panther sighting in April near Halesowen / Stourbridge. We also know of reports from lorry drivers of panthers in Lancashire near Charnock Richard services, on the M6
Report on front-page of today's (Sat17th) Star newspaper of reported "Lion" on the loose in Yorkshire, turning out to be a dog with no coat !!!!!
Report to myself from a work colleague (software programmer) of his sighting of a Panther on the main Sleaford to Louth road near North Kyme, North Lincolnshire. He was driving to race meeting on Sunday 04th July, at 07-00 when he came round a bend. The Cat was in the middle of the road and moved out of the way, but did not appear scared. He says it was about a Labrador size, with a long tail. He has cats at home, and is certain it was a very big cat!! and not a dog
This area has had numerous reports , although it is too far away for ourselves to keep a track on.
Reports of heavy livestock losses around big cat sightings at Carmarthen, West Wales.
(MAY 99)
Report of Big Cat activity on the Isle of Wight !!
A dog has apparently been savaged by a Puma.
No other info known at this point
(APRIL 99)
On a diverse note, it was interesting to see that the Cheetahs in Africa, are so used to the 4*4 vehicles in the game parks, that they now use them as mobile observation platforms! Much to the delight of the occupants. The cats then jump off, when they get close to their prey! This evolution is exactly what is happening with the cats in this country, as they live in harmony with man, and adapt to the new challenges and food chain!
Radio4 have run a few documentaries and phone-ins on the Big Cats, and were inundated by reports countrywide. Newark Police have had a helicopter out looking for a Panther seen near Newark by a farmer and other witnesses, but nothing has been located.
We have also heard an amusing tale about a Puma seen "sunbathing" by a Police patrol near Belper , Derby who observed the cat in an old quarry through field glasses at a distance for some time. The backup helicopter and armed response units fortunately disturbed the cat, and it went to ground! The locals were so alarmed at the Police response, that they agreed to withdraw, and to leave the cat alone unless it proved to be a threat to humans. This has fortunately not happened to date,.
(MARCH 99)
The prime time 30 minutes documentary went out on Central ITV. It featured the sightings around Ludlow in Shropshire, 40 miles west of Birmingham. These have become prolific, and feature a Panther type black cat of larger than dog size. One witness on foot even got a clear view of a small brown animal with the Panther, thought to be a cub. My father interviewed the witnesses and gave on camera information and advice on the cats. The program was made early Jan, but I have had to keep details off the Public domain until it went out. The makers spent an evening with a local farmer, who's family have twice seen the Panther. The team never managed to get any footage, but did hear some very unusual noises in the nearby wood. Unfortunately, it takes over a year to get 1/2 hr footage in Africa, and that's using radio tagged Leopards and full night vision cameras!
(FEBRUARY 99)
I have just come back from the Galloway area of South West Scotland, and was informed that there appears to be an active Big Cat up there. A local hunter (a sceptic when I met him last year!) who worked at the factory I visited, told me of an incident at the end of 98. He was out at night with some others "Lamping" foxes, when a fox was picked up in the powerful light. Suddenly, a very large animal bounded out the forest and knocked the fox over, before bounding away. The gentleman and his companions were certain it looked and acted like a very large cat of Panther size. The fox was found to have suffered a serious wound to its side, with a piece of the shoulder ripped out. There have been numerous other reports of Big black Cats, in this remote area of vast forests to the East of Stranraer.
I have received an email regarding activity of Big Cats in the Amersham area of Bucks. This is to the North West of London, about 10 miles out from the M25. Apparently the sender was a local taxi driver, and he had seen Panther type Big Cats on a number of occasions 2 years ago, and so had many of his passengers. The area in question having many dense woods and large parks / estates.
(JANUARY 99)
I have been informed that more confirmed prints have been taken from the Gainsborough area of north Lincs by the police. This is in connection with ongoing sightings of Panther type big Cats up there.
I have been informed that the site about the Black Howler, a black beast supposed to be stalking the Mid West USA is a hoax. Set up to see if people would report sightings (Some very bored people out there !)
(6th Jan) Following broadcast and phone in on "The Late Show" across the BBC local radio network in the Midlands, I took loads of calls both on and later off air on sightings across the Midlands. There seems to be a Panther being seen on Cannock Chase, to the North of Birmingham, the last report was by 7 witnesses on Xmas day. Forestry rangers have also seen it. There was also a report on a Panther crossing the main A40 road at Ross on Wye, Herefordshire in October. And an early morning worker saw a Panther nr Leamington Spa, to the East of Birmingham. He was on foot and very close and noticed it had what appeared to be a live cat in its mouth. (We wondered if it was a cub rather than a domestic cat, although there is plenty of evidence of cats being on the menu). The animal was black in colour and about 3 foot tall with very long curved tail, ran off as a car approached.
(DECEMBER 98 ) Just had an interesting contact with a couple in Essex who have just started a similar logging and report investigation group as ourselves. They are taking reports direct from the police down there and have already taken lots of eyewitness accounts. Working on wildlife documentaries professionally, they are very keen to get some good video evidence, and say that most wildlife professionals now firmly believe in the Big Cats existence throughout the U.K
(NOVEMBER 98) This weekend (21st) A big operation to capture a "Lion" is going on around the fringes of Dartmoor in Devon. This follows various sightings, including a close encounter in which the Lions mane could be clearly seen!. Police found a 6" paw print nearby, and confirmed it as from a 2 year old Lions! We get occasionally reports of lioness's but these are down to Pumas, which can look similar at a glance (but do not make 6" prints!, and do not have a mane). Despite using dogs and armed officers, and more sightings coming in , no result was posted at this time and no Lions are reported missing.!
Footnote as of today (05/12/98), further sightings have come in but it is thought to be a large Puma, the original report of a lion is in Question and was probably over imaginative reporting of a Puma.
(NOVEMBER 98) There is now large concern around North West Cambridgeshire, around the former nuclear RAF base at Molesworth. A Puma type brown cat has been seen in the area, and there has now been 20 sheep killed over the last few months next to the base. They show signs of not being killed by dogs etc, and some have been dragged across and through fences. The farmers son even saw the cat himself. Local farmers are now out "hunting" the cat and are demanding help. The Ministry of Agriculture are now involved. Will post more details when known, I have visited the site, and it is surrounded by some dense wood and forest land. Ideal cover, and only 10 miles from the village of Nassington, area of previous sightings.
(NOVEMBER 98) It has also been proved, that we now have a population of at least 120 wild Boars breeding in the south of England. Similar to the big cats, they have been supposedly non existent and the government refused to believe the reports. Now after a train killed one at Westbury, Wilts the evidence is proving too hard to hide, and despite lack of hard evidence, is now being accepted (and they cant climb trees and tend to smell!!!!!!)
(SEPTEMBER 98) Another area causing major interest, is the so called "Beast of Althorpe" which is regularly seen around the late Princess Diana's childhood home and burial site. Regular recent sightings have occurred around the park and Great Brington, and livestock and dogs have been recently attacked. The local media and Northants police, keeping a close eye on the situation, and from the descriptions given, at least one panther is involved.
If any persons local to either area can shed light on these reports, then please email me.
Major flap near M25
(SEPTEMBER98) A Major operation got under way in late September following various sightings of a Puma type big cat around the Potters Bar area of North London/ Hertfordshire. This resulted in a police operation and lead to a positive sighting by two police officers on foot of the cat in a field by the M25 motorway at South Mimms. The animal was described as sandy brown in colour, of Labrador size, with a long curved tail with black rings. Also white marks on its chest, and cat like head. The animal was very feline as it "slinked" along before after a few minutes going through a hedge. The officers then lost it on the other side!
This sighting lead to the force helicopter and thermal image cameras being deployed through the evening and today along with London Zoo, and RSPCA experts, to no avail. I visited the area the next day (Sun 27th Sept) on route home, and it is ideal big cat country, with large areas of dense woodland, farmland and large leafy gardens, as well as numerous railways! More sightings came in through the week, but the operation was wound down. This is not the first Puma sighting round there, reports go back at least ten years, and extend up to Hatfield, and Brookmans Park and down to Enfield. There is also the Lynx of nearby Hoddesdon, and Panther of Essex, so it will not get lonely!
(AUGUST98) It has also come to our attention that there is a current "hot spot" of Big Cat sightings around Buckingham, about 70 miles to our South West. Apparently, the local papers regularly feature these and have even got some photos. I will post them on here if we can obtain. These sightings now extend to the outskirts of Milton Keynes, and hair samples obtained by a local investigator for analysis.
(AUGUST98) Also the Marlborough area of Wiltshire is having a bonanza of Big Cat sightings and we are told that the nearby Savernacke forest is particularly "hot". There are also reports that over 100 dogs have gone missing while on walks in this forest over the last few years, never to be found!
Please note that various sites are out there now in the U.K devoted to Big Cats (or A.B.C (alien big cats as they are often now called)
For others, try typing "Big Cats" in on a search engine or Cryptozoology is another area to search for. Local papers also have on line Archives, which when accessed allow "big cats" to be searched for and reports located. (Eastern daily news deal with the Norfolk and Suffolk sightings)
INDEX FOR THIS PAGE
Sightings in other parts of the country
Return to front page