WELCOME TO THE RUTLAND
AND
LEICSTERSHIRE PANTHER WATCH
Sightings 2002 page
(16-02-2003)
This page features the sightings log for 2002 Leics and Rutland and periphery only
Click on link for 2001 sightings
Reports are received from a variety of sources including referrals from Leics Police, local media referrals, and direct or indirect contacts by phone, letter or increasingly email. It should be remembered that these are just the tip of the iceberg and many are not reported, or come in years later.
Where possible, all reports are followed up by telecon as a minimum or site visits. Where a "hot" report comes in, ourselves and the Police have been on site within a few hours and in at least a couple of occasions, further sightings have occurred whilst attending. One notable occasion in 2000 resulted in the Police wildlife officer eyeballing a Panther before it ran off at immense speed!! Needless to say that he is now (if not quite then) a 100% believer in their existence
Please note that sometimes, specific location details are withheld for safety of the Cats
Jan 2002
2nd January 01:00 hrs Nr: Gracedeiu Woods, (Thringstone) NW Leics
Lady sees a large black feline like animal, from her window across the road and scratching at the hedge as if it were trying to un-root something from there, on realizing it was being observed it then about turned and went off towards Gracedieu Wood.
This family has seen the cat several times now.
Thringstone was a really popular location for sightings a couple of years back but has not had as many recently. Only a mile from Coalville and Hugglescote, location for recent reports
Final thoughts: Possible Black Hybrid
2nd Jan 5.30 am Tinwell by-pass near Ketton / Stamford
Panther like cat seen crossing road. Fortnight previous, another person saw Panther crossing at same place same time. Only mile from the vast Ketton cement quarry, location for previous sightings and paw print casts going back to early 1990. Apparently, the quarry workers are still seeing the cat(s) around the quarry and extensive woods from time to time.
7th January Nr: 17:00 hrs. Nr Wilsonís Homes, (Donnisthorpe) NW Leics
A lady rings to report seeing a large black Panther like animal in the fields at the rear of her property. She said it had a long black tail that was thick at the end; it also moved like a cat but was about the size of a Labrador.
Close to Measham, Moira and Coalville, all active Panther and Puma locations
Final thoughts: Possible Black Hybrid
Early Jan, Rutland
Report in Rutland Mercury of Panther like cat crossing the main Uppingham road next to the Rutland water Eggleton reserve at Gunthorpe. Guy who saw it is a countryman and is certain of what he saw.
15th January 20:10 hrs.Nr: Bridle Path Road, Burbage Common, (Burbage) South Leics
John a member of Panther Watch rang in to report a sighting only 10 minutes old, of a possible Puma. He was on his way home with his kids when he saw some green/yellow eyes reflect back at him from the lights of his car as he drove down a local lane near to where he lives.
Panther Watch went out to the scene where hair was collected from a barbed wire fence, and there was a footprint near to the stream however it was not possible to take a cast as the ground was hardened by the frost, but there were no further development.
Final thoughts: Possible Puma
Note there have been ongoing Panther and Puma sightings near Burbage, Hinckley and Broughton Astley throughout 2001
30th Jan 2002 9 PM Aylestone, LEICESTER
A lady on Montrose rd South went to dustbin at back of bungalow adjacent to allotments and woods. This is a small green "enclave" in the middle of a large housing estate in the south Leicster suburb of Aylestone. The house security lights illuminated the black cat which she described as big as bull mastiff dog.
She was only 3ft away from it and said it had piercing yellow/green eyes which were unforgettable and small ears. The taill curled up at the end and was near to the ground. Also big paws, it seemed well fed with muscular shoulders Plodded on looked at her, and ignored her
This sighting is less than a mile from where a panther was seen on 18th July 2000 in Gilmorton Avenue Aylestone.
What is really interesting is that we received a sighting report which occurred at 8.50 PM on 30th January 2002 nearly 20 miles away- EXACTLY 10 MINUTES BEFORE THE SIGHTING IN MONTROSE ROAD AYLESTONE SO IT CANNOT BE THE SAME ANIMAL!
30th Jan 20.50 Hugglescote / Coalvile, NW Leicestershire
Same time and day as Leicester sighting
A man was driving on the A50, south of Coalville in direction of Leicester was past Grange Road roundabout for Hugglescote, but before next roundabout (Shaw Lane for Ibstock ) passing the old railway line and isolated house. Near Bardon Hill quarry.

He saw a big black cat ( bigger than an Alsation) with long sinuous tail casually crossing the road in front of him

NOTE , ON 4 DECEMBER 2001 a Panther was sighted near to Hugglescote Primary School.

Feb 2002

23rd Feb 18.45 Knighton /central Leicester

Powerful security lights came on at the rear of the house. Householder looked out and they saw a cat with a 3ft long dark mottled body with 3 inch long ears and a thick dark tail. It almost floated across the lawn.

March 2002

19th Mar 08.08 Somerby /Nr Melton /Leicestershire

A lady was taking her dog for a walk towards Pickwell when a big cat crossed the rd ahead in two strides, it went into a field in direction of Burrough hill it had a mottled brown appearance which might have been caused by its spots not been covered by the ground colour of the coat. Five years previously a big cat was seen at this point.

22nd Mar 08.20 Same location as above

Large dark cat seen as it crossed in to the field in the direction of Burrough hill and rare breed animals in the field were not bothered by the cats presence.

30th Mar 22.00 Dishley/Loughborough

A young lady reported seeing a Puma type cat via e-mail to PANTHER WATCH, that was sighted not to far from her home. She was just out cycling with her sisters near to the Bishop Meadow Lane, Industrial Estate, at approx 10 pm. She was just heading towards the direction of the lake there, when she noticed something in the ditch, on pointing it out to her sisters they all saw what she describes as a sandy collie dog sized feline, with a very straight but long tail. At first she thought it may have been a fox but the tail wasnít bushy at all she said, and she said the creature had a more rounded face more like a puma with short stubby ears. The animal the looked up and ran off into some bushes. Taking her cycle light she shone it over into the bushes and saw two amber eyes reflecting back at them. This encounter had left her other two sisters rather shaken, so they returned home telling their farther all about it. A few nights later her sister had heard some rather strange noises coming from the lake where she walked her dog, so on the 4th of April the young lady went out with her father armed with a spotlight and camera, they shone this over the playing fields and saw two amber glowing eyes reflecting back again, then what ever it was started to run towards then, stopped and stared right back. At this point the couple decided to retreat and go home, discussing their encounter. The cameras battery by the way was flat so very little came of it.

Comments:

The amber eyes that shone that night was possibly a fox, although Panther Watch West Area's Chris Mullins was near to the vicinity in the Garendon Park area a few nights later where a Puma like animal had been sighted before and got a rather strong smell of neat ammonia which is usually the mark of a bigcat spraying it territory.

April 2002

2nd April 22:50 Nr: Gracedieu Woods, (Thringstone)

A young gentleman camping out in Gracedieu Woods with his dog, sees a large black Panther like creature, about the size of a Great Dane with a long thick tail, it stood watching him from about 3 metres away, he saw the yellow reflection of its eyes quite clearly by the light of the camp fire, he just stood still and the animal then left running off out onto the park of the Melrose Road estate, the gentleman returned home with his dog quite shaken by the encounter.

Final thoughts: Possible

Black Hybrid

11th Apr 04.15 Pickwell/Nr Melton/Leicester

The security lights at the council houses on Leesthorpe rd were triggered by a darkish big cat crossing a garden from the direction of Saxon Lee and observed by householders (1/4 mile from sightings at Somerby in March)

20th Apr 20.00 Cadeby/Nr Twycross

A man and boy out shooting rabbits in a field saw a big cat approximately the size of a small cow. Man observed it clearly through hunting sights but as they approached, it went into thick cover

May 2002

3rd May 10.45 Main street/Greetham/Rutland/Nr Leicester

A female business Rep was parked opposite the garage facing towards the direction of the A1, suddenly she saw a big black cat crossing the rd 50 yds ahead. It ran out of the lane form the stone quarry and headed down a track leading to the golf course. It was black ,the size of a labrador with along `s` shaped tail. 10 years previous she had seen a big cat in Kent.

15th May Mysterious killing of Swan at Watermead Park/Nr Leicester

Wardens at Wanlip Watermead Park are mystified by evidence of the strength and skill of an animal which clinically killed and consumed selective parts of a swan on Wednesday night (15th May).

The carcass of a perfectly fit adult cob swan had been carried ten metres from the point where it had been killed. The swan appeared to have been ambushed whilst asleep on the pathway. It had been attacked near the point of the crop and windpipe, an almost instantaneous killing. The neck feathers and skin had been smoothly and precisely peeled back as if rolled from the base of the neck up to the head, leaving a perfectly smooth neck meat surface to view and above it a tight roll of skin just below its head.

The smooth action could only have been achieved by the rasping action of a large catís tongue as the use of teeth or claws would have left a rough surface. It had also consumed a considerable part of the chest cavity and there was evidence of fine but deep claw puncture marks.

Towards its back the outside of the body of the swan was undisturbed with its beautiful white feathers still intact.

The general consensus of opinion of wardens, wild life officers and Robin Roberts Panther expert at Drayton Manor Zoo was that

there is no known British animal with the capability and agility to instantly overcome a swan and that the evidence points to a Big Cat kill.

During 2000 Panther Watch recorded two Big cat sightings relevant to this event: -

7.30 am 19th April 2000 Watermead Park Wanlip

Lady exercising her lurcher came face to face with a velvet black Panther bigger than her dog with a long tail

Adjacent to Watermead Park:-

2.30 am Hobby Horse roundabout A46 25th November2000 Big cat jet black three and half feet long, two feet high, long curled tail crossed road in front of lorry.

It is probably a male Panther which passes through the area from time to time.

Late May, Thringstone, North West Leics

(Report received mid August from a local man)

"I was travelling out of Thringstone at approximately 1600 hrs, north west down Lilly Bank Lane towards Griffydam when I noticed a large black cat in the field to my right (just behind the George and Dragon pub). It was a dark and gloomy day but I noticed that it was jet black with a really long tail. It was also much bigger that your average dog. Anyway, it looked like it was chasing something such as a rabbit on the farmer's field (there are a lot of rabbits down there) because it was really quick and I have never known a dog to change direction and accelerate as fast as that. It then must have heard me going down the lane because my exhaust is quite loud. It then saw me and then darted up the side of the field adjacent to the hedgerow of which it then dived into (in between the Bulls Head and the George & Dragon on the A512 Ashby Road). The sighting lasted about 5 minutes

June 2002

17th Jun 16.30 Back rd in Burrough /Nr Moscow Farm/Leicestershire

Big black cat bigger than a fox seen crossing the small lane, it had a very long body and a thick tail (crossed road here in previous years)

18th Jun 09.00 Upper Bruntingthorpe Nr Lutterworth

Three employees at the car testing track and home to the Vulcan bomber saw a big black cat 30 yds away, it was walking in and out of parked cars. Its body length was 3ft long body and 2 and a Ĺ ft tail. Seen around Bruntingthorpe on previous years. Base is ex USAF and is surrounded by security fence and woods within base but it is able to move freely over the fence

July 2002

16th Jul 04.16 B6047 towards Market Harborough/Nr Shankton/Leicester

The driver was delivering a hired vehicle saw a flock of sheep two fields away scattering as a big cat passed through them unconcerned by the sheep. The driver has also seen the big cat twice previously in that area.

18 July 3.37 am Kirby Bellars, South West of Melton

A middle aged couple driving on the main Leicester Melton road past the Flying Childers pub, Kirby Bellars drove past a big cat sitting at the side of the road waiting to cross as soon as their car had gone by. It was definitely a Panther green eyes small ears and bigger than an Alsation .

This sighting area is the most active of any part of Panther watch territory . It is worth concentrating on this area in preference to anywhere else.

25th Jul 11.30 Tetuan rd/Nr west end of Fosse park and Dane Hills allotments / Central Leicester

The householder saw a big cat with a smooth shiny jet black coat, It was the height of a fox but fatter came out the ditch, it had small ears and uniformly long thick tail. In the ditch were bird feathers and empty packets and cartons obviously raided from somewhere.

26th Jul 18.00 Theddingworth and Husbands Bosworth/ Nr market Harborough

A panther was seen stalking and playing with rabbits along the railway line to Market Harborough.

27th Jul Weldon /Nr Rockingham Forest/Corby

Observed it for over a minute as it walked around the field then disappeared behind a dip. It was bigger than a domestic cat and its walk was more purposeful.

30th Jul 08.00 Markfield to Ratby rd /Nr Leicester

Seen at 25 metres it was the size of a labrador it had a long tail and was leaping along.

Aug 2002

2nd Aug 00.00 Magna Ind Park Lutterworth, South Leics

A couple were coming back to Market Harborough at 60mph when a big black cat like creature which was longer than the width of the car and slightly higher than the bonnet leapt across the rd. They staoped and it was by 2 ft. in front as it disappeared into the undergrowth it had a mottled appearance. And was taller than the bonnet and wider than the car.

4th Aug 21.00 Normanton to Empingham rd/ Rutland (near to Rutland Water dam)

Occupants of two vehicles saw the Panther cross the rd in front of them. It leapt the width of the rd causing them to brake hard. It was seen both of the occupants in the car and by the passenger in the van who stopped and got out to converse. They then saw the big cat running along the grass verge towards them before it went into the hedge. One of the lady's involved is keen on tracking Tigers and visits abroad and was sceptical until this sighting.

8th August 15:30 Barrow / Quorn, Nrth Leics

The following report was received from a lady

"I was very surprised to see this cat as it was a warm, sunny day, Thursday,
8 August, at about 3.30 p.m. I thought they only came out during the
evening. I was walking from Quorn towards Barrow along Barrow Road and was
on the bridge section that passes over the A6. Flesh Hovel lane would be
the next road on the left hand side, just before the roundabout near the
bungalow and nursery on the left and the sports field n the right. The cat
was walking towards me along a private lane, that leads to a farm. As the
cat was gazing at the gardener in his allotment I continued over the bridge
and turned left to go into the allotments to alert the gardeners but, having
second thoughts, I decided to leave well alone. I had visited the nursery a
few weeks earlier for plants and noticed they kept all their small animals
in large cages, so they would be safe from foxes, etc. I telephoned the
Loughborough Echo (anonymously) and they gave me your website address"

12th Aug 20:45 Gumley near Foxton north of Mkt Harb, South Leics

12 Aug 8..45pm Market Harborough Lubbenham - Gumley Rd 3 youths on fishing trip drove behind a Panther bigger than an Alsation for 100yds till it loloped through gap in hedge. Been seen all around this are over the years and recently at Thedingworth (2 miles away ) on 26th July.

16th August Stathern, Vale of Belvoir , North of Melton

Following report received from a friend but the driver has since contacted ourselves to verify

"A delivery driver called at the house yesterday with a parcel. Virtually
immediately he asked if we had seen any big cats near the house (we are the
last house in the village). I said no, but knew someone who logged such
sightings. He then told me that he had seen a huge, black, cat like
creature about the size of a small alsatian dog with staring red eyes
walking across Blacksmith End out of Stathern at about 9.30pm on Friday
16th August. Blacksmith End is the back lane out of Stathern towards Long
Lane. There is a turkey farm about half a mile out of the village. The cat
was going in a North Easterly direction roughly towards Belvoir Woods and
would have been about 400 yards from our house when he saw it!"

17th August 16:00 Kilby Bridge (old A50) 4 miles south of Leicester

Panther like cat seen clearly as it crossed the road next to the railway bridge and canal. Black with a long "S" tail and very cat like but as big as a large dog

20th August 06:30 Ketton Cement works, South East Rutland

3 workers in the weighbridge at the vast Castle Cement works and quarry in Ketton saw a large Panther like black cat walking down the adjacent field. The security guards and driver could clearly see the very large alsation size cat at about 100 yards as it walked along side a fence near the works lagoons.

Panthers and Lynx are often seen either near the works or in the quarry by workers or drivers and have been since the early 90's. There is a vast SSSI wood (big enough to hide an army) on the old quarry workings providing abundance of cover and rabbits!!

Made a visit to the site that night but no sightings made.

24th August Early Evening Burrough Hill country park, South Of Melton, Leics

A walker on the ancient hill, which is one of the highest points in Leics observed a large cat of labrador dog size on top of the ancient iron age hill fort.

The parks council ranger (who has also seen the cat numerous times of the years), observed at the same period that the cattle were very skittish on the fort and kept looking up to the woods etc.

Pumas , and panthers have been seen on or around this site sores of times over the last 8 years and Moscow farm was the point of a road crossing on 17th June this year

25th August 13:00 Nr: Football stand, Farley Way, Quorn, Charnwood.

A lady and her husband was travelling home from Loughborough to Barrow upon Soar on the 13:05 minibus that goes down Farley Way in Quorn, she was on the left hand side of the bus and her husband was on the right side, as they were going past the football stand she saw a large jet black cat, she said "it had a biggish head, longish body and a very long tail, I know it could not have been a pet cat" "I know someone with a pet cat that is very big, but in proportion this black thing was massive. Big head, long body, big tail and feet. .By the time I told my husband, it had gone through the hedge". "Whether it had come from the estate opposite, I donít know". "I also saw one in Loughborough Cemetery about two years ago, I was on the bus then, and it seemed to be just walking through the gravestones." This is a letter which was sent to the Loughborough Echo and printed 6th September 2002.

Quorn and the sightings below at Barrow are only 1/2 mile apart

26th August 10:00 Nr: Pillings Lock, Barrow on Soar, Charnwood

A gentleman whist out walking his Doberman near to the main A6 flyover of which their had been a sighting before, his dog ran down the bank and started woofing then a large cat emerged and ran off, the dog didnít give chase. This was near to Pillings Lock, and the Sewage Works.

28th August 21:00 Nr Pillings lock, Barrow On Soar, Charnwood, Leics

Young gentleman goes fishing down at Pillings Lock, when he decided to move to a different spot, he was breaking through the reeds to find a different spot when he saw a cats tail about 1Ĺ foot long in the reeds. The cat then leapt up onto the bank of which was approx 5 or 6 ft, and took of towards the woods where there is a stream.

Sept 2002

3rd September 17:00 hrs Nr: Chalfont Drive, Sileby, Charnwood, Leics

A young man reported seeing a large black feline about the size of a Labrador bounding across the field which is between Cossington on Cossington Road and Chalfont drive he described the animal to be of slim build at the rear but more thick set at the front, at a guess he said it would have had a gait of approx 5 Ė6 ft.

3rd September 10:30 hrs Snarestone, NW Leics

The following email was received and followed up to confirm via telecon,

I can also confirm that the lady is Education Officer for Twycross Zoo, and is used to observing Big cats in captivity and in the wild. She alos discussed this with their Big Cat keeper who is now convinced that there is a thriving population of Panthers and Pumas at large in the UK

"On the 3rd September at about 10.30am while I was walking my dog in on a path near Snarestone leicestershire, I saw a large cat.

It was approximately 20 feet away, black, sleek, and a youngster (under a year) It pounced on something on the path I was on, then heard us looked up, and ran off in to the bushes, where I could not see it. It was about 2.5-3 foot tall, and the body length was about 3 foot (measurable by comparison with my dog who was with me at the time). It's face and ears were very rounded and it was very playful."

Joanna Baker

Twycross Zoo

4th September 02:30 Garrats Hay (near old Royal Signals army base), Old Woodhouse, Charnwood Leics

A gentleman who was a sceptic, heard strange cries from outside where he lived on opening the bedroom window and looking out he suddenly encountered a large Labrador sized black skinny cat approx 30 ft away which sat on its haunches and began making this noise at him and thrashing its paws in a threatening manner, after which it got up and walked away and at approx 30 yards away it repeated the threat, before walking off. The next morning they found scrape marks in the gravel driveway. Since then this gentleman has become a firm believer.

4th September : 13:30 hrs. Nr: Kissing Gates, (Woodhouse Eaves) Charnwood, Leics

A lady rang to report seeing a large Puma like cat bigger than her Dalmatian dog, on a very narrow footpath near to a stream, by the Kissing Gates. On seeing the animal see immediately called her two dogs back to her, this was also witnessed by her husband, they both described the cat as a golden honey with grey in its fur long legs with very large paws and long tail which curled up at the bottom, a very interesting point about this cat is it had about a 3 inch black tip at the end of its tail, this can be typical of a Puma

This is intriguing as it's within 1/2 mile of the panther reported less than 12 hours before so the two breeds of cats must be aware of each others presence or even intearacting.

Oct 2002

5th October Swannington nr Coalville, NW Leics

Guide on a trail walk along the Swannington Village Trail reported that a large black animal was seen by 12 of the group running across the field from Cattle
Arch bridge on Swannington Incline along the edge of a field for about 150
yards before it disappeared into a group of trees behind Swannington Manor
House. They were all convinced that it was much larger than a domestic cat.
It was about 150yards away.

Footnote, Swannington is next to Thringstone, a very active location for Panthers both recently and over the years. Swannington Incline Trail is a disused railway and the whole area is covered by abandoned mines and railways with dense cover and lots of rabbits!!!



9th October, 02:20 Thringstone village, nr Coalville, NW Leics


Chris, our NW Leics member received a live report in the early hours

from a lady in Thringstone (who has previously reported seeing the panther), she said she had just seen the Panther Correction, She was looking at the Panther as they spoke, the sighting lasted some 15 minutes or more, she described the animal in detail, she said it sat across the road where it was seen last time, it was black the size of a dog small monkey shaped ears (rounded) a long tail and the cats muzzle (snout) was more larger than that of a domestic cats, this was sighted near to the Gracedieu Woods.

Thringstone is one of the most active areas ever and has had a very high number of Panther reports for nearly 10 years now. The report form the 5th of this month at Swannington is less than a mile away from this village.

11th October 06:15 Markfield NW Leics

The following email was received:

Dear Sir,
I would like to report the sighting of a black panther. I deliver newspapers in the Markfield area in the early morning, and on Friday last 11/10/2002 at 06.15am, I observed a black panther crossing the road through my rear view mirror. Although it was semi dark I clearly saw this animal about the size of a Labrador dog , leap across the road , which is thirty five yards wide, in three bounds. It had a long tail curved upwards at the tip. This was on the Markfield to Desford road , known as Thornton lane Markfield. The exact map reference is SK494093.

Footnote, this whole area across to Coalville is very active at present.

13th October Rowley Fields allotments, South Leicester

The following email came in from the chairperson of the allotments society

"During the summer of last year, one of our members reported seeing "a big black cat" on the site, which we chose to ignore.
However, in the last fortnight, three separate plot holders, on three separate occasions, have reported seeing "a big black cat with a long curling tail". One said that they got quite close and it growled at him.
We have recently experienced a lot of interest in allotment gardening and believe the sightings may be because there are lot of new plot holders clearing derelict plots and may be disturbing the cat's habitat."

Footnote, there have been sightings over the years all around and into Leicester. To the south the green corridor of the old GCR railway running from the outskirts through Aylestone meadows country park and Rowley fields and ultimately past the new Walkers Stadium forms ideal access for the cats into the very heart of the city.



14th October Ravenstone near Coalville, NW Leics

Another sighting by email:

"My wife and I were walking our two dogs yesterday afternoon on the edge of the village in a field next to the Heather Road, opposite Beesleys Nurseries. The part of the field we were walking in has been earmarked for a new primary school, so has been left to go wild and is full of long grass. We were walking along the rough path parallel and quite close to the road when my wife suddenly said there's a dog ahead. In a split second I saw an animal about the size of a fully grown labrador leap out of the grass towards the hedge at the side of the road. It moved very quickly, in the manner of a cat, and not like a dog at all.
Although I only saw it for a fraction of a second, my firm impression was that it was a large panther like animal. However, I would only claim it as a possible sighting, as our view of it was so brief.
I hope this information is of some interest to you. "

Possible sighting of a panther as the description and area seen fits with pattern emerging.

21st October Burley woods, near Oakham, Rutland

The following email was received

"

Hi, i came across your web site after coming across a freshly killed deer earlier today. i was walking my dog in Burley woods near a manor house overlooking Rutland Water near my home in Oakham. i had noticed many deer acting very 'skittish' before i came across the kill.

Soon after my dog acted rather 'weird' and then we came across the deer. It was, i would guess, a young adult male, being of full size but with short stubby antlers. It looked like it had been killed very recently ~(it did not smell) and it's injuries were thus:
Throat, as i can only describe, as being ripped out.
Stomach slashed open and contents sprawled out to it's side.
There were no other signs of 'man-made' injuries and a patch of blood about 50 metres away that my dog duly found.

The deer are normally very careful about being together in a group but they had been scattered and i saw at least 3 isolated and acting very scared (more than usual) i also heard a loud noise from the wood that i can only imagine was a 'warning' sound from a deer ( a low growl/bark).

Having thought about it all day, i found your site and was amazed at the number of 'big cat ' sitings in the area. i will walk my dog in the same area tomorrow and take some photos.

Regards"

After speaking to the gentleman concerned, I am fairly positive that he came across a recent kill by a Panther and that the animal was disturbed by him and his dog and still in the locality. The low growl being the classic Leopard "cough" as a warning to keep away. He re-visited the scene the next day but the carcass had gone, buried or up a tree I would suspect.

There have been many Panther sightings within 1/4 mile of these woods over the years and in fact the deer kill pictures on this website were taken only 1/2 mile away from this report.

22nd October Near Coalville, NW Leics

Lady passenger in car on A511 at roundabout near the Birchwood pub saw a big cat like animal about size of deer crossing ahead towards the industrial estate.

26th Oct 05:00 hrs Oakham, Rutland (25 miles East of Leicester)

Local businessman driving into Oakham on Braunston Rd saw Panther (Labrador size) crossing road ahead at speed (just before houses) on outskirts of Oakham.

Previous recent sightings in Rutland at Ketton Cemant works 20th August and Normanton 4th August and various in Ryhall, all 10 miles away but see also Deer kill on other side of Oakham 21st this month.

27th October Willesby nr Twycross, West Leics

Report from a farmer of a suspicious sheep kill on his farm, animal shows signs of having been killed by a big cat

The area of Twycross has been, and still is active Panther territory and a young Panther was seen by the Twycross Zoo education officer in nearby Snarestone in September.

30th October 11:20 hrs Burrough Hill, near Melton, East Leics

Report from Melton Times 31st October

Driver travelling to Somerby near Burrough Hill fort saw a large cat like animal crossing the road in front. Described as labrador dog size, black with cat like body and walk, but its head was in the hedge as it disappeared. Previously sceptical, the man is now sure of what he saw.

There have been scores of sightings of Panthers and Pumas over the years on, or within 2 miles of the ancient iron age fort of Burrough. Perhaps it's the high ground that attracts them or the dense gorse bushes and trees providing cover along with the hundreds of rabbits that populate its steep ironstone banks and valleys. The previous report there was from the park ranger on the hill in August.

1st November 16:30 hrs Keyham lane near Lodge School, East Leicester suburbs

Report of a poss big cat sighting on land near the lane. More info when known but many reports have been logged for this eastern outskirt of Leicester over the years including on this busy lane itself.

19th November 04:00 hrs Otowa rd, St Mathews estate, Nrth Central Leicester

Report came in today (19th) from the Leicester Mercury, of sighting in early hours of this morning. The gentleman in his early 60's reporting it has been interviewed and it seems to be a genuine clear sighting.

The man heard a deep growling noise and looked out the window of his house to see a very large , Leopard like cat staring feet away back at him through the glass, he said it flexed its shoulder muscles and was the size of what you would expect to see on a wildlife film. It was dark grey/ black in colour and as he watched, it scent marked the ground before it leapt clean over a 6 foot gate. He went outside and said there was a very strong smell of ammonia where it had marked the ground.

This sighting is actually only 3 miles from the Keyham lane report this month, and is connected by a disused railway, albeit with sections built on now. Its also fairly close to Abbey park and the canal network and also the main railway, along where there have been sightings at all points in the past.

However, its only a few hundred yards from the Leicester Mercury newspaper headquarters and City centre shops showing just how close they will come in to towns at night

( note The Mercury did not run this report till some weeks later on 6th Dec)

Late November, Fleckney, South Leics

RSPCA and police investigating calf being killed and cow attacked in unusual circumstances. Vet called police after finding evidence of big cat attack and not dogs. Also on same night, dog on nearby farm was scared enough to slip its chain and run off, after a very large creature got into its kennel. The creature then smashed the kennel up from the inside out, to get out, the remains having deep scratches and teeth marks. The dog survived with scratches.

More info posted when report received.

Dec 2002

Date unknown Ibstock, North West Leics,

Just in is this email report from resident at Ibstock to Chris who is following up:

"I live in the country in approx.4acre site have a large pond with trees and hedgerow to the rear. I often put food out for the foxes, my husband came home one night and saw a very large black cat, a few days later I looked through the window and saw a very large black cat walking very slowly up my lawn but keeping very near the bushes he was being stalked by my cat who was creeping as low to the ground as he could, the black cat walked upright and glanced to each side as he walked and then vanished into the shrubs at the top. next day we saw a smaller black cat lying at the side of the pond he was around for approx. two weeks he all ways ran away if you took a step towards him we noticed lots of feathers on the grass and on the pond, we all ways have lots of ring neck doves around the pond suddenly they disappeared. I believe it was a big cat which stopped to have her young. I managed to get a photograph but it wouldn't let me get very near to it."

Other witnesses were present, warm and sunny day and think it was a very

young panther with adult.

Footnote: Ibstock is the centre of intense big cat sightings from the early 90's to present.

To view this and the other pictures taken at the lake, click on the pic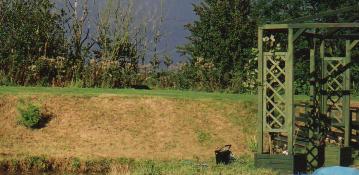 1st December, Twyford, East Leics

A local kennel owner and countryman contacted us and , reports having "lost" a 22 lb mirror carp from a pond on his land in unusual circumstances. The carp had been taken across an 8 foot wide river in flood and half eaten over night in a field, some 80 yards from its pond. The head remains, weigh 10 lbs and are intact with no damage to the outside, the rest of the body had been eaten apart from some scales. He doesn't believe any UK indigenous species could kill, move that distance and then consume overnight such a fish

He also lost an 18 lb carp in the summer and found a large patch of heavy flattened grass near then remains. There have been numerous smaller carp taken and eaten in the field as well.

As far as we know, no other predator in the UK could handle a fish of this size, and carry it such a distance. Otters are now coming up the rivers in Leics but will only take up to 8 lb fish, and certainly not drag them across fields to eat. The area is very active with panthers, being only a mile or so from Burrough Hill fort and also next to a disused railway where recent reports have been logged. The fish is in cold storage for evidence.

Its not the first time carp have been taken and linked to the big cats, in fact in the 1990's, a large mirror carp was killed and eaten at Hinckley on the other side of the county and a large panther was seen by the edge of the lake at the time and prints taken. Panthers have also been seen recently in Rutland catching trout on a weir and I gather the "Angling Times " has run articles on this particular trait.

The Leicester Mercury, tonight (7th Dec) ran an article and picture of the carps head in the Saturday edition.

6th December,19:00 Nether Broughton, North East Leics/ Notts border

Large Panther like cat observed on Heckadeck lane, Broughton, between Melton and Nottingham

More info when known

Thursday 12th Dec 19:35

Another email relating to the Melton area was received:

"I was travelling through the village of Holwell (North of Melton
Mowbray)
towards Melton from Nottingham, as I approached the end of the village
at the bottom of the hill where the road takes a sharp left toward the
Underground Mining Danger Zone (usually full of sheep) A large black cat
like animal crossed the road in front of me causing me to brake. It was
about the same size as an adult Great Dane dog with a long tail, a thick
neck. It sort of bounced as it made its way across the road then after
it had crossed it looked back before heading into the garden of the last
house on the right hand side at the bottom of the village in the
direction of Ab Kettleby village. It was very dark in colour with no
other distinguishing marks and it looked like it had just come down the
hill along the road from the old mining zone cattle grid area. There
were no animals in that field that night."

Footnote: This sighting is only a mile or so from the previous sighting at Broughton and so could well be the same animal. There have been hundreds of sightings within a few miles of this location, just North West of Melton over the past 7 years or so.




Saturday Dec 14th 19:30

Location: B581 Broughton Astley near to crossroads with Cosby Road,


The following email was received in Feb 2003


" I was driving along Cosby Road in Broughton Astley heading NE and turnedright at the crossroads on to the B581.Approximately 100 yards on the right hand side was a large road sign and close to this sign a saw a large black creature looking or bending its head towards the gutter. At first glance, it looked like a large black labrador taking a drink (which would be very unusual in that remote vicinity unless it had escaped) but upon closer inspection as I drove past, it appeared distinctly lithe in physical shape and its head was certainly that of a cat.
Being somewhat surprised at what I believed I had just seen, I turned the
car around to double-check but unfortunately the creature had already gone.
I have mentioned this sighting to people living on Cosby Road but to their
knowledge, they are not aware of any other sightings. One family who own a
dog are equally unaware of any large black dog living in the vicinity."

Footnote: There have in fact been may sightings in and around the villages surrounding this location over the past 4 years so it fits in a pattern. We also have had reports of these cats drinking from puddles on the road side in the past.

Click on link for 2001 sightings

Back to main page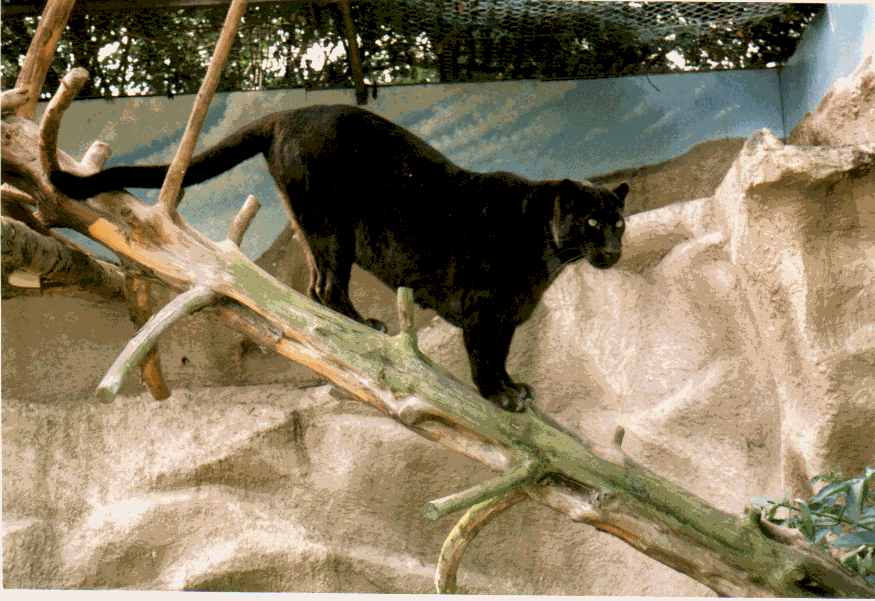 Or go to the sightings log for Leics and Rutland from the early 90's up to 2000

Ibstock 2002 lake pictures of young panther