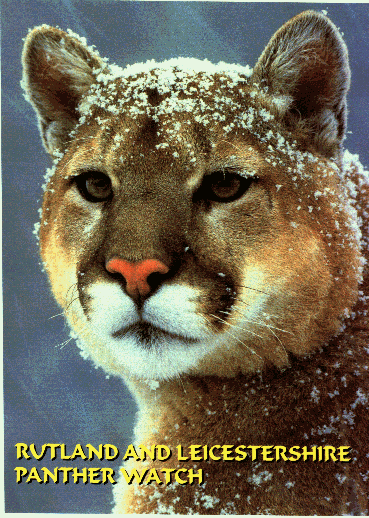 On the eve of the BBC2 documentary, the Leicester Mercury ran an article on the Cats, in which the RSPCA and Police, both admitted that these animals really do exist and are thriving in the countryside, the copy of the page 27-01-2000 is below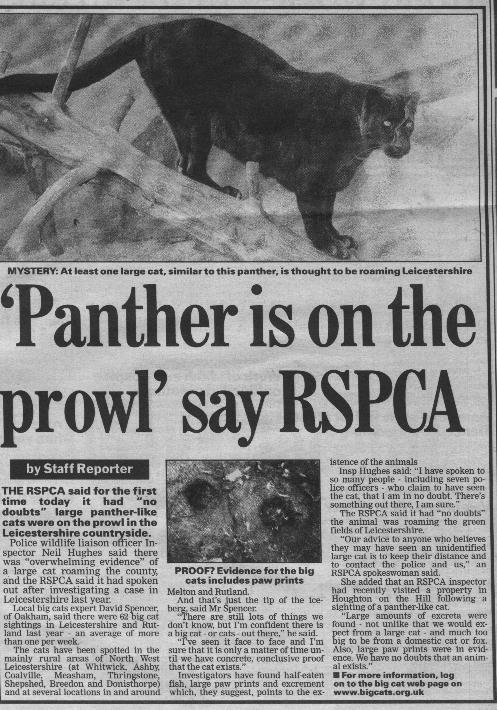 The day after the documentary, The BBC team who made it obtained on camera interviews with Big cat breeders who admitted to releasing Panthers and Pumas in the Midlands in the 1970's
This was run on the news and also national papers over the weekend.
Below is the text from the Yorkshire Post, Sat 29-01-2000 which ran an article on the confessions
More than 100 leopards and pumas may be at large in Britain.


I freed panther and cougar at Snake Pass, says ex-lion tamer Jillian Ward


A FORMER lion tamer has admitted he released a panther and a cougar into the countryside near Sheffield in the 1970s. Leslie Maiden, who once owned more than a dozen big cats, said he released the animals off the A57 Snake Pass in Derbyshire.
He also said people in Sheffield had released big cats on the moors. "I released a panther 26 years ago on to the moors on the Pennines at Snake Pass," Mr Maiden, of Cradley Heath, near Dudley, West Midlands, told a BBC regional news programme.
"It was miles from anywhere. It was a couple of days after releasing a cougar," he said.
More than 100 leopards and pumas are thought to be roaming the British countryside. Big cat experts believe the animals are the offspring of beasts released by owners in the 1970s after the introduction of stringent new laws governing wild and dangerous animals.
Mr Maiden, 63, known locally as "One-eyed Nick", added: "Iíve always been an animal lover. But people came to me with the animals saying they would have to put them down. I had no option."
Fellow big cat owner Lewis Foley, 61, who kept the animals at a menagerie with Mr Maiden, disclosed that a friend of his in Coventry had set a panther loose in Nottinghamshire in 1974. Mr Foley said: "He knew about the new laws and didnít want it put down."
Friends in Sheffield also set big cats loose on the Pennines, he added. In 1994 a man walking his dog in Todwick, between Sheffield and Worksop, was frightened by a black creature he said resembled a panther. In 1997 an armed response unit was mobilised in South Yorkshire by police after reports of a black panther in the Masbrough area of Rotherham. That year a number of sightings of big cats were reported between Pateley Bridge and Ripon. An RSPCA spokeswoman said Mr Maiden and Mr Foley had not broken the law because it only became illegal to release wild animals into the countryside in the early 1980s. Commenting on the apparent rise in sightings of big cats, she added: "A lot of these are unconfirmed, but people should not necessarily be alarmed. Thereís no need for people to panic."
Return to front page