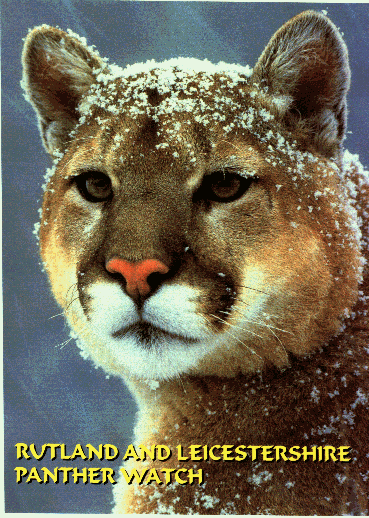 This page is about the BBC2 Documentary "Midlands Report"
On 27th Jan 2000, the documentary was run across the Midlands region at 19-30 against "East Enders". It attracted nearly 1/2 million viewers, according to the producers, "a record for this series and any regional BBC2 program"
It has certainly got the subject firmly on the front of debate, and hopefully has now firmly put the subject into the natural history sector as opposed to being previously the domain of x-files and other paranormal.
It was a very balanced documentary with contributions from Leics Police and the RSPCA, both firmly stating that these creatures are existing out there in the British countryside. As well as interviews with ourselves and Mark Henson, it also featured loads of reliable eyewitness accounts, one being the Leics Police motorway sergeant who saw a young Panther on the M.way verge and stopped to observe it in the summer 99. The first time he has agreed to go on camera, such is the status of the subject now that witnesses are no longer in fear of ridicule.
Inspector Neil Hughes, the Leics Police Wildlife Liason Officer, also said he is 99.9% certain but would still like to see one just for himself !
Plenty of wildlife and Big cat experts were interviewed and only one believes that they should be caught, the rest , as ourselves feel that on balance, there are far greater risks to the Public and that they could even benefit the countryside by controlling rabbits, foxes and muntjack deer (a real pest to forestry and agriculture)
The "Telford Brickworks" CCTV video was shown with a scale Puma for reference. Although not 4 feet long, the cat shown on the film still exceeded a domestic cat by a long way apart from its different stature to a domestic.
The conclusions were that the Cats are out there, the only disagreement was to their potential threat.
One things for sure, there will certainly be more documentaries, judging by the viewing figures.
Use your back button
or
Return to front page